Our Hospital, Our Stories

A Speaking of Health Recap – Advanced technology that crucially connects healthcare professionals and improves care for expectant mothers

Posted on: Jul 28, 2023

Recapping our latest Speaking of Health event, "Advancing Obstetrical Care for Women Across Alberta," highlighting the OBIX Perinatal Data System.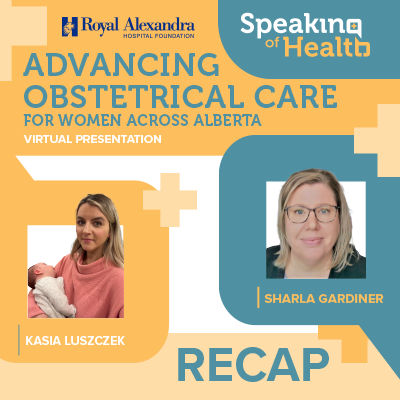 On the evening of June 8, 2023, over 100 people registered to join a virtual presentation on the use of the OBIX Perinatal Data System, discovering how it is revolutionizing patient care at the Lois Hole Hospital for Women, located within the Royal Alexandra Hospital.
OBIX, as it's commonly called, is a digital system that allows healthcare professionals to centrally monitor the health of babies and expectant mothers from virtually anywhere — a patient's bedside or a remote location. It is elevating the quality of care for expectant mothers within the walls of the Lois Hole Hospital for Women and connecting patients across the province with the specialists who call the hospital home.
In 2022, OBIX arrived at the Lois Hole Hospital for Women, made possible by the generous support of many donors, community members and visionaries. In fact, the fundraising effort by the Royal Alexandra Hospital Foundation came in at a historic $1.6M, outraising its campaign goal by over $500,000.
Speaking of Health attendees were welcomed by Royal Alexandra Hospital Foundation president and CEO Sharlene Rutherford, who noted OBIX is just one of many examples of how the Lois Hole Hospital for Women is proving to be a leader in Canada and how donors are integral to these important advancements.
The presentation portion of the evening featured two healthcare professionals, Sharla Gardiner and Kasia Luszczek, both part of the Lois Hole Hospital for Women's Labour and Delivery Unit, sharing their experiences and observations in using OBIX every day.
For those who were not able to attend, or for those who would like to review all the information and perspective that was shared, we have put together the following in-depth recap covering each speaker's remarks, and answers to some of the questions that were posed that evening.
CLICK HERE TO VIEW THE PRESENTATION SLIDES
---
PART 1: The Care Provider Perspective – Sharla Gardiner
In the first of the two presentations of the evening, we heard from Sharla Gardiner, a Labour and Delivery Unit Manager at the Lois Hole Hospital for Women.
Sharla began by sharing more about her connection to the hospital and women's health, telling the group that not only has she been providing care to women at the hospital for the last two decades, but she also delivered all three of her children at the hospital.
As she moved on to explaining more about the OBIX Fetal monitoring system, she noted that to understand its true impact, it's important to first gain an understanding of the reach and role of the Lois Hole Hospital for women across Alberta and Canada's north. Sharla stated more than 7,200 babies a year are delivered at the hospital and that it is "the high-risk tertiary center for the [Alberta Health Services] Edmonton, North and Central Zones, and also including the Northwest Territories, the Yukon and Nunavut." In addition to the geographic reach, Sharla added "we provide care for patients with pre-existing complex medical issues, those who develop high-risk complications during pregnancy and those whose fetus may have an anomaly and need immediate NICU support." The Lois Hole Hospital for Women is the only site located within Alberta Health Services' Edmonton, Central or North Zones that deliver babies less than 30 weeks. 
With the Lois Hole Hospital for Women serving such a large part of the province's labour and delivery needs, having up-to-date technology and processes is paramount. We learned that prior to OBIX's arrival, the hospital's healthcare professionals had to be in the same room as the expectant mother so that they could watch the real-time printing of the fetal heart tracing, which is a key indicator of a baby's well-being. Sharla explained that this not only posed care and logistical challenges but also opened the hospital to potential legal issues, should any crucial physical documentation be missing if a legal review of a case was needed.  
With OBIX — an electronic monitoring system that allows healthcare professionals to access and view data digitally via computers, tablets or even smartphones with a wi-fi connection — many of these issues are alleviated.  
We invite you to watch the "Putting the Care Back in Healthcare" informational video, provided by Clinical Computer Systems, Inc., the company behind the OBIX Perinatal System:
"Staff were mesmerized and thrilled with the ability to view a patient's fetal heart tracing remotely, when not in the room. A whole new world had been opened for obstetrical health care providers at the Lois Hole. Little did we know how far-reaching and practice-changing the implementation of OBIX would be."
-Sharla Gardiner
Labour & Delivery Unit Manager, Lois Hole Hospital for Women
During Sharla's presentation, she shared four key ways OBIX is improving patient care, from her perspective:
Promoting patient safety

In replacing physical printouts of a fetal heart tracing, the digital measurements captured by OBIX provide for greater accuracy and reduced risk of error. Practitioners can leverage electronic tools within the OBIX system to help them make critical on-the-spot decisions when seconds count. And accuracy is greatly improved when multiple babies are in the womb, as OBIX is also better than previously-used systems at differentiating heart rates.



Opportunity for education

The central monitoring aspect of OBIX provides the ability to regularly educate new staff and students. It's an easily accessible way for the collective healthcare team to review the information, then clarify and/or reinforce what the information indicates.



Improved charting and time spent with patients

Prior to OBIX, when paper printouts were the norm, nurses expressed they felt the time-consuming and manual nature of the paper charting activities was taking away from the bedside manner aspect of their work. Since the arrival of the far more efficient OBIX system, Sharla notes nurses have said it has allowed them to feel like they are truly caring for and supporting their patients better.



Improved communication with care providers

The OBIX system is designed to facilitate the flow of information between nurses, midwives, and physicians. Patient status updates arrive faster to those who need them, and decisions can be made by providers, even when they are not able to be at the patient's bedside. Healthcare professionals can remotely monitor patients within the same hospital, or thousands of kilometers away in communities across Alberta.
Sharla ended her presentation by thanking the Royal Alexandra Hospital Foundation and its many donors whose generosity helped secure OBIX for the Lois Hole Hospital for Women.
---
PART 2: One Patient's Journey – Kasia Luszczek
The second portion of our session included a presentation from Kasia Luszczek. Kasia is a Labour & Delivery nurse who is currently on maternity leave with her second baby.
Kasia noted she brings multiple perspectives to the conversation: as a nurse who has worked at the Lois Hole Hospital both prior to OBIX's arrival, and after it was deployed. Additionally, as a mother who gave birth at the hospital: first without OBIX as it had not yet arrived for that pregnancy, and the second time, with OBIX.
Kasia recalled her recent birth experience, which involved her baby undergoing frequent monitoring.
"This is an occasion when you are at your most vulnerable and you are depending on your healthcare team to keep you and your baby safe," she said. Kasia added that knowing the hospital had OBIX provided her with a sense of security. "Someone was always watching my fetal heart tracing or able to watch it at all times."
She walked attendees through what a patient can expect when OBIX is involved, describing the process of being hooked up to monitors with two straps being applied to the expectant mother's belly.
Kasia then shifted to her experience as a nurse. She echoed some of the many benefits Sharla outlined earlier in the presentation, referring to the increased time spent with patients, enhanced communication, and improved accuracy in medical records.
She ended her presentation with a very poignant message.
"Having OBIX in labour and delivery at the Royal Alex is something we can and should be proud of. Having this technology provides an essential layer of safety when delivering babies. I am grateful and privileged to have delivered at the Alex as I truly cannot have imagined delivering my baby elsewhere or working elsewhere."
---
PART 3 – Q & A
Following both presentations, we turned things over to the audience. There were many questions for the presenters – some are included below. Questions and answers have been paraphrased and condensed for the sake of brevity and clarity.
Q: How much time does OBIX save nurses?
Sharla: It saves the time with the actual physical charting of it [fetal heart rate]. They're able to spend significantly more time with their patients.
Q: What was the most surprising part of your experience with the OBIX system?
Kasia: How accessible it is. If you are on any other unit, you can look up the tracing and go back if you've missed something or wanted to look at something again, it's as simple as just scrolling. So, I thought it was super easy to use and very easy to interpret.
Q: How did the launch of OBIX change your day-to-day duties as a unit manager?
Sharla: It's been a significant improvement. From our computers, we can pull up a chart and see a fetal heart tracing… so we're able to keep an eye on what's happening on the unit. If someone says 'I'm concerned about this' and we need to talk about an escalation process or what to do with a patient, we can look at it with them right from our office and we've been able to use it firsthand as well as charge nurses.
Q: Do you find mothers are more relaxed knowing monitoring is still being done, despite them not coming into the site as often?
Sharla: It takes a huge stress off moms if they don't have to come into the site to be monitored. They don't have to worry about finding childcare, which can be really overwhelming for a lot of moms. We also have a maternal fetal medicine clinic at the Lois Hole Hospital for Women, an outpatient clinic which serves patients with high-risk pregnancies. Our obstetrician can look at results in the OBIX system from wherever they are and the patient doesn't necessarily have to come up to the fourth floor to be monitored. So now we can eliminate that movement of a patient which sometimes causes anxiety or trauma by moving them.
Q: Will OBIX be used at other local hospitals?
Sharla: It is used at other sites in Edmonton – the Misericordia Hospital, Grey Nuns Hospital, and the Sturgeon Community Hospital [located in St. Albert] are all labour and delivery sites and we are all using OBIX now. The plan is to have it at all labour and delivery locations in Alberta.  
Sharlene Rutherford (Royal Alexandra Hospital Foundation president and CEO): Regarding OBIX at Sturgeon Community Hospital, the Royal Alexandra Hospital Foundation matched all donor dollars to Sturgeon Foundation to ensure that St. Albert also had this technology, too.  It was a wonderful partnership that benefitted patient care!
Q: What's next for the OBIX system at the Lois Hole Hospital for Women?
Sharla: One thing we are really excited about is the launch of antenatal homecare. That will be a huge change in process which will be nice because we have a lot of outpatients that come in who are on the antenatal program, but need a little bit longer monitoring than the homecare nurses can provide. So that will be a significant improvement for the hospital system and for the patient.
Q: What have doctors said about OBIX? How does OBIX improve collaboration between nurses and doctors?
Kasia: It's been positive. I work pretty closely with resident physicians and if they are on another unit, they have found it pretty positive to be able to open up OBIX and just look up that specific patient. It's saving time for everyone.

Thank you so much to our speakers for sharing their time and experience, everyone who attended our lecture, and to everyone who donated!
We sincerely hope you found value in this presentation of Speaking of Health, "Advancing Obstetrical Care for Women Across Alberta," and we look forward to you joining us for the next event in the series.
For more information related to this event or for future Speaking of Health lectures, please feel free to reach out to Kirby at [email protected]