Our Hospital, Our Stories

Sharlene Rutherford Awarded Queen Elizabeth II's Platinum Jubilee Medal

Posted on: Nov 24, 2022

The medal is awarded to outstanding Albertans for their notable contributions to the betterment of society.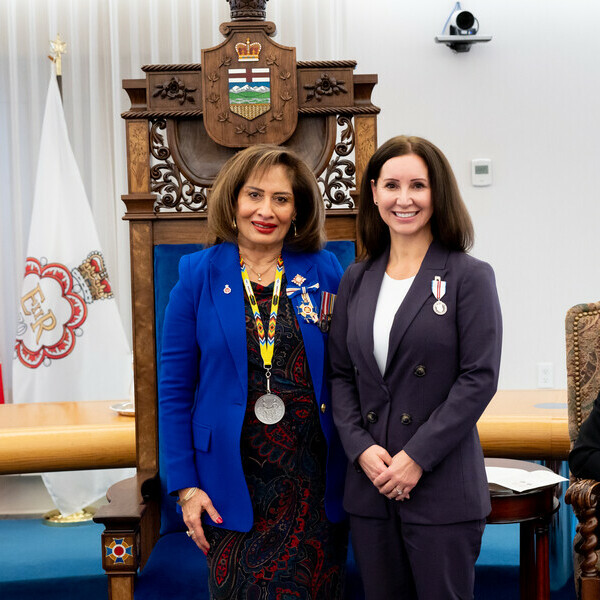 The Royal Alexandra Hospital Foundation is thrilled to share the news that our very own president and CEO, Sharlene Rutherford, was awarded the Queen Elizabeth II's Platinum Jubilee Medal (Alberta).
The Queen's Platinum Jubilee Medal is a commemorative medal created to mark the 70th anniversary of Queen Elizabeth II's accession in 1952. The medal ceremony took place on November 15th, 2022, at Government House. The award recipients were decided prior to the death of Her Majesty, Queen Elizabeth II on September 8th, 2022.
This medal is awarded throughout the "Jubilee Year" to just 7,000 Albertans who have made significant contributions to Canada, Alberta, or to a particular region or community.
Sharlene was awarded the medal for her service in support of the Royal Alexandra Hospital, and the advancement of healthcare for Albertans, with a special emphasis on Sharlene's work championing women's health and health research. The award was presented by Her Honour, the Honourable Salma Lakhani, Lieutenant Governor of Alberta - who, along with her husband, His Honour, Dr. Zaheer Lakhani, were named Honourary Patrons of the Royal Alexandra Hospital Foundation earlier this year. 
"Receiving the Queen Elizabeth II Platinum Jubilee Medal from Her Honour Salma Lakhani is a professional and personal highpoint for me, and I am deeply grateful to be counted among fellow Albertans recognized for their contributions. No one receives this medal on their own merit, however, and I have been fortunate to work with and learn from wonderful people at the Royal Alexandra Hospital and the Foundation who are exceedingly hard-working, knowledgeable, and committed to improve the health of Albertans. This medal is a testament to our work, together!" - Sharlene Rutherford
Please join us in congratulating Sharlene on this significant achievement! We are tremendously proud.