Stories With Vision

Norman Rousseau's generosity brought his family closer together

Posted on: Sep 27, 2021

When Norman Rousseau passed away, he left a legacy gift through his will. Through just one powerful gesture, he touched the lives of so many—and brought a new sense of pride to his family.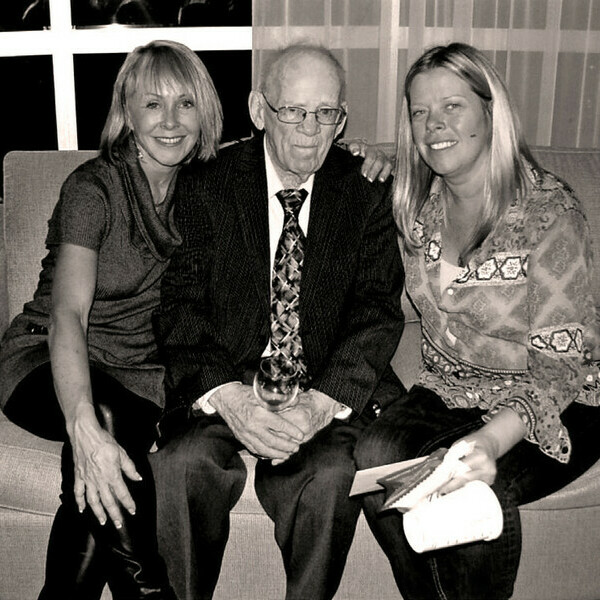 If a person wishes to support a cause they care deeply about, and it goes unfulfilled, then it is a double loss. Their hopes were never realized, and this loss was never necessary.
Fortunately, it is possible for a person to make a financial plan that will provide for their loved ones and for the charities that mean the most to them. Nothing is left to chance, their hopes can be achieved, and everyone can be richer for it.
The family of Norman Rousseau learned about this possibility thanks to Norman's generosity.
Joan Rousseau is a niece of Norman Rousseau, a benefactor to the Royal Alexandra Hospital. Through a gift in his will, Mr. Rousseau made a massive impact on the Department of Ophthalmology and the Eye Institute of Alberta clinic. It's a clinic where tension and anxiety can run high. Yet these days, calm and comfort prevail because Norman Rousseau's gift enabled extensive renovations and improvements
which greatly enhance each patient's experience.
"When our Uncle Norm died, he left a legacy through a gift in his will. It was a powerful gesture, one that benefitted several health and spiritual care charities in Alberta. For this alone, we as a family are extremely proud of him," Joan shared.
Joan is thoughtful about her uncle's philanthropy and what it means to the family, "We each came to terms in our own way with the plans he had made and the impact of those decisions. It was a revelation to me, realizing what Uncle Norm had done through a single act. Over time, I got to see first-hand how it would improve the lives of so many in need. Our uncle's example showed us what it meant to be selfless and truly care for others."
When considering making a bequest to a charity, it is best to consult an expert, such as a legal advisor, financial planner, or accounting professional. With their advice, particularly about ways to reduce or eliminate estate taxes, a plan can be created to optimally provide for loved ones and charitable beneficiaries. Others may be brought into the discussion early on, allowing donors to share their intentions, and loved ones can be informed about the plan and have the chance to offer their support.
"Our Uncle was a bachelor with no children," Joan disclosed. "He lived modestly and with humility. He believed in hard work and living by his word. Although he had little formal education, he read voraciously, travelled extensively, and loved to laugh. Living extravagantly was not in his vocabulary.
Like his father, he was extremely responsible with saving money. When issues with his vision, hearing, and heart became more serious, Uncle Norm visited the Royal Alexandra Hospital more frequently.
While the care he received heightened his appreciation for the hospital and its staff, he still took note of the struggles of others around him, and their difficulties accessing the healthcare they needed. He realized that with his wealth, he could make a difference in the lives of so many Albertans beyond his immediate family.
When he made his end-of-life plans Uncle Norm shared his intentions with us. He was committed to providing for the care of his health-challenged sister and his other relatives. He was equally steadfast in supporting the Alberta charities whose values aligned with his own. He believed that, in their hands, his gift would have a long-lasting impact in the community.
After my uncle's passing, I recall my own mounting sense of pride in being identified as the niece of Norman Rousseau.
My sister Jen and I attended and spoke at various ceremonies to honour Uncle Norm and his donations to several charitable organizations in Edmonton. We were honestly proud and deeply honoured to be sharing in the glow of respect and privilege reserved for generous philanthropists like our Uncle Norm.
He had became a hero, publicly and also more privately to our family. His charitable giving has touched the lives of so many. At the same time, he demonstrated what it means to be truly selfless and philanthropic."
Pictured: Norman visiting with nieces Joan and Jane, 2013
For further information about the needs of the Hospital, and the legacy giving program, including sample wording for making a gift in your will, please click here or contact Leslie Ritchie at (780)735-4621 or [email protected].