Stories of Hope

Newly funded OBIX system connects mothers and babies with their doctors—and closer to their families

Posted on: Jul 12, 2021

A massive effort from donors means the Lois Hole Hospital will install the OBIX Perinatal Interface System in November, allowing high-risk pregnant women from all over to access LHHW doctors and monitoring remotely in real-time.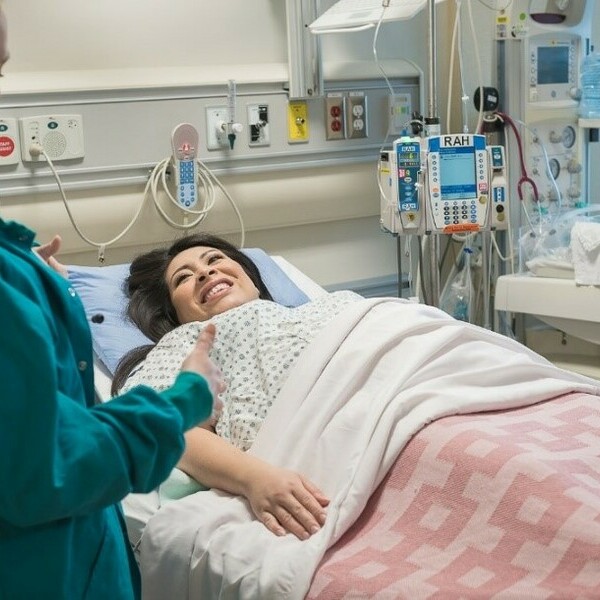 Coming Together to Support Our Soon-To-Be Mothers
Through the generous support of many donors, community members and visionaries, the Lois Hole Hospital for Women is proud, humbled and excited to share an enormous announcement...
We have reached—and exceeded—our fundraising goal of $1.1 M for the OBIX Perinatal Interface System! 
The new state-of-the-art system will be installed at the Lois Hole Hospital for Women this coming November and spells great news for women and families across western Canada. 
This technology promises to transform the care that mothers with high-risk pregnancies receive—mothers who live across Alberta, Northwest Territories, northern BC, Saskatchewan, Nunavut, and the Arctic.
What OBIX does is provide pregnant women with access to the expert care of the Lois Hole Hospital's physicians virtually, integrating a mother's medical record with fetus heart surveillance. The system allows for centralized digital fetal monitoring from both bedside and remote medical locations, sharing the info in real-time with her team of doctors and care providers. The technology is even accessible via phone/tablet!
"This is a huge development in women's health care in our province! It means that more pregnant women across Alberta and beyond will be able to rely on the top quality perinatal care of the Lois Hole Hospital, while also staying close to home and close to their support networks," said Sharlene Rutherford, President and CEO of the Royal Alexandra Hospital Foundation.
The funding of this new system was a massive joint effort from a variety of passionate supporters who could see the importance of bringing the Lois Hole Hospital's specialized care to as many women and mothers as possible, no matter their city or town's distance to the Lois Hole Hospital's location on the Royal Alex's campus.
Our deepest gratitude goes out to the very special supporters who helped make this possible:
Lois Hole Hospital Women's Society
The William & Florence Lede Family Foundation
The Cliff Lede Family Charitable Foundation
Estate of Donna Osterhout
St. Albert Community Foundation
Anonymous gift


Using A High-Tech System to Care for High-Risk Pregnancies
The fact is, women who experience complications during their pregnancies often require immediate medical attention by specialists, with fast decision-making often playing a critical role in the health and wellbeing of soon-to-be-mothers and their babies.
Sadly, those who live outside of Edmonton and do not have immediate access to the specialized services of the Lois Hole Hospital may not receive the timely care and decision-making they need.
Fortunately, technology has the ability to bridge the distance between patient and healthcare provider. The OBIX Perinatal Interface System is that technology.
The Voices of Patients
In our latest Annual Report, we shared the story of Sydney Borle-Judd, a patient from Grande Prairie. In the 28th week of her pregnancy, she experienced an emergency situation that necessitated she be flown to LHHW for an emergency C-section.
Sydney spent over a month and half away from home at a time when she needed the support of her family the most. 
If OBIX had been in place at the time, she could have received the same excellent care but without the downside of being away from her family. That, she said, would have made all the difference.
Amanda Twidale from Cold Lake had a similar experience.
At her six-week postpartum appointment, the doctor discovered abnormal cells on her cervix. She was sent to the Lois Hole Hospital in Edmonton for further tests. After the 4-hour journey, she learned she had cervical cancer.
Her cancer treatment took place in Edmonton, using the Lois Hole Hospital's specialized da Vinci Robotic Surgical System to remove Amanda's cervix and cancer with a minimally invasive surgical intervention. The surgery went smoothly. However, Amanda wanted a second child, and there are certain risks that are associated with pregnancy without a cervix—Amanda knew she could lose her baby or give birth prematurely.
Amanda was admitted to the Lois Hole Hospital when she was in her 19th week of pregnancy, and put on bed rest for the remainder of her pregnancy.
This meant that Amanda had to spend the majority of her second pregnancy in Edmonton. Alone.
Without the immediate comfort and support of her family, Amanda struggled to stay hopeful. While the nurses at the LHHW recognized these challenges and encouraged her to celebrate each day as a win for her and her baby, it remained an extremely difficult time. 
As it was, Amanda had to stay on bed rest for 126 days. Her baby was successfully delivered through cesarean section at 37 weeks. 
Again, had the OBIX Perinatal Interface System been in place at the Lois Hole Hospital at the time, Amanda's experience would have been vastly different. 
She would have received medical care from physicians in her hometown at the Cold Lake Healthcare Centre. They would have had access to Amanda's most current diagnostic information and could have coordinated her care with physicians at the Lois Hole with increased accuracy and timeliness.
The anxiety and unease of this period of isolation could have been avoided. 
Despite her challenges, Amanda is still one of the lucky ones—there are many high-risk pregnant women who simply do not have access to transportation and the resources that enabled her to receive care at the Lois Hole Hospital. These women may live in remote towns and areas of northern Alberta, Northwest Territories, northern BC, northern Saskatchewan, and areas of the Arctic. 
Thanks to our generous donors, the OBIX Perinatal Interface System will arrive in November to help eliminate that distance!
More remote communities will be able to access exceptional and compassionate care being delivered in Edmonton, and medical professionals in these distant communities will be able to take instruction and guidance from experts in Edmonton to deliver that care locally, keeping patients closer to their families.
And there is even more good news. There are wider plans and discussions happening around OBIX... Alberta Health Services hopes to eventually install OBIX in more medical sites across the province that have electronic fetal monitors (EFMs). What an impact that would be for our women and families!
Please join us in celebrating this enormous achievement and thanking the many kind souls who made this possible!
If you would like to support the Lois Hole Hospital and other life-changing advancements like OBIX, please consider a donation.