Stories With Heart

Celebrating the Past, Present and Future of the CK Hui Heart Centre

Posted on: Feb 02, 2022

In honour of Heart Month we'd like to commemorate the CK Hui Heart Centre—which just celebrated its tenth year in operation at the Royal Alexandra Hospital.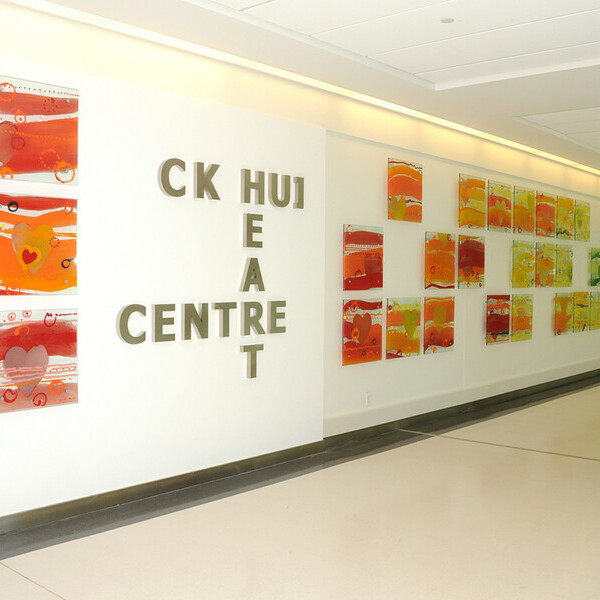 Since its inception on May 2nd, 2011, the CK Hui has proven itself to be a centre of cardiovascular excellence in North America. 
The CK Hui provides world-class care to its patients, publishes ground-breaking research cited in national and international academic journals, and continues to dedicate resources to training the next generation of cardiologists. Year after year, we hear countless stories of gratitude for the CK Hui Heart Centre from former patients, such as Charles Park, who credits the cardiologists at the CK Hui for saving his life. Charles Park was so appreciative of the quality of care he received; he became a major donor to the Royal Alexandra Hospital Foundation! 
The Past
Before opening a little over a decade ago, the Royal Alex did not have a dedicated cardiac wing. The hospital only had five cardiologists. Cardiac care was delivered in different rooms and locations across the hospital, which created barriers to providing the kind of care hospital staff felt their patients deserved. Nevertheless, Royal Alex physicians provided the very best care they could. 
The desire to treat cardiac patients under one roof compelled Royal Alex physicians and leadership to push for the creation of the CK Hui. Eleven years later, a variety of cardiac programs and services are administered from the state-of-the-art heart centre in the Robbins Pavilion.
The CK Hui offers staff and patients the complete integration of cardiac services—from intensive care and in-patient care beds, catheterization and pacemaker labs, to cardiac outpatient clinics. The CK Hui Heart Centre has become an indisputable leader in cardiovascular care, research, and training in North America. 
The Present
Since opening its doors, the CK Hui has grown from a team of five to nearly 20 cardiologists. Physicians can now spend more time with their patients under one roof, and patients requiring urgent care can immediately be transferred to the nearby catheterization laboratory, where physicians can provide emergency cardiac care. 
The CK Hui has a long list of achievements—from spearheading innovative programs to advanced equipment that makes it a leader in cardiology. Many of these projects received funding from the Royal Alexandra Hospital Foundation thanks to our generous donors. Some of these highlights include: 
-       Becoming the first site to carry out angioplasty and radial procedures in Alberta – now commonplace procedures that were experimental at the time. 
-       Innovating valve implantation to be the first hospital in Canada to administer the transcatheter aortic valve implantation (TAVI) procedure. TAVI involves inserting a manufactured valve the size of a quarter into the heart, replacing a patient's failing aortic valve. The procedure is less intrusive than open heart surgery and gives new hope to patients for whom traditional open-heart surgery is deemed too risky, due to pre-existing medical conditions.
-       Purchasing an Impella heart pump, a circulatory assistance device roughly the size of a pen which helps maintain blood flow during high-risk procedures and for the critically ill.
-       Developing a partnership with the Aga Khan University Hospital in Kenya, setting up a sister campus in Nairobi.
-       Creating the Maternal Heart Health Program in 2013. Led by Dr. Wahab, this initiative addresses cardiovascular issues in pregnancy.
-       Investing in a variety of imaging devices that help view the inside of coronary arteries, intervascular ultrasounds and portable ultrasounds used in the coronary care unit
-       Obtaining a LUCAS pump, a specialty device to help deliver CPR while in the catheterization lab – which saves staff members from being exposed to radiation
-       Piloting a program to research severe cases of hypertension. 
-       Establishing the Multicultural Heart Health Program in which healthcare teams from the CK Hui engage in community outreach and education with multiple cultural groups who live with a higher risk of suffering from heart disease and stroke. 
-       Expanding the Indigenous Heart Health Initiative, led by Dr. Po Kee Cheung and Dr. Ben Tyrrell. The program focuses on indigenous heart health and wellness through outreach and partnerships with indigenous stakeholder groups.
The CK Hui has also gained an international reputation as a world-class training facility for cardiologists. People apply from all over the globe to come and train and the CK Hui. With over 50 trainees to date since 2011, the CK Hui Heart Centre is providing global impact through local action. At present, the facility has trainees from Canada, Malaysia, Hong Kong and Rwanda. 
"The ultimate goal is to advance clinical care procedures, advance science, and save lives. Just do it no matter what it takes, is our philosophy." – Dr. Tyrrell 
The Future
Historically the researchers and healthcare providers at the CK Hui have been focused on evidenced-based medical procedures, and while that trend will continue, Dr. Tyrell, director of the CK Hui Cardiology Care unit, anticipates a move towards "intelligence-based" medicine. Cloud-based medical data and wearable technology will help physicians better monitor patients through programs like Google Health.
Through these changes, CK Hui leadership anticipate more "precision medicine" and early intervention to treat many ailments, advanced imaging technology, advanced drug discovery and gene therapy, and the increased use of robotics technology and virtual assistants to enable surgeries that are less invasive. Imaging has become an essential part of medical treatment, and investments in state-of-the-art imaging equipment is essential for the CK Hui to continue being a leader in the field of heart health. Over the next ten years, CK Hui leadership hopes to continue establishing a legacy fund that would guarantee funding to continue offering excellent training to upcoming cardiologists.
"The Foundation serves an enormously important role—I can't over emphasize that enough. The foundation has been instrumental in advancing the clinical realm and research we carry out at the CK Hui." – Dr. Brass.
If the past eleven years are any indication, the future of the CK Hui is bright. Albertans have access to world-class treatment right here in Edmonton thanks in no small part to the generous donors and visionary leaders who helped make the dream of the CK Hui Heart Centre a reality. A sincere thank you for all your support! We can't wait to see what the CK Hui achieves in the next 10 years.