Our Hospital, Our Stories

Your Support, Your Impact - Report to the Community 2016

Posted on: Dec 02, 2016

Celebrating a year of outstanding community support for the Royal Alexandra Hospital.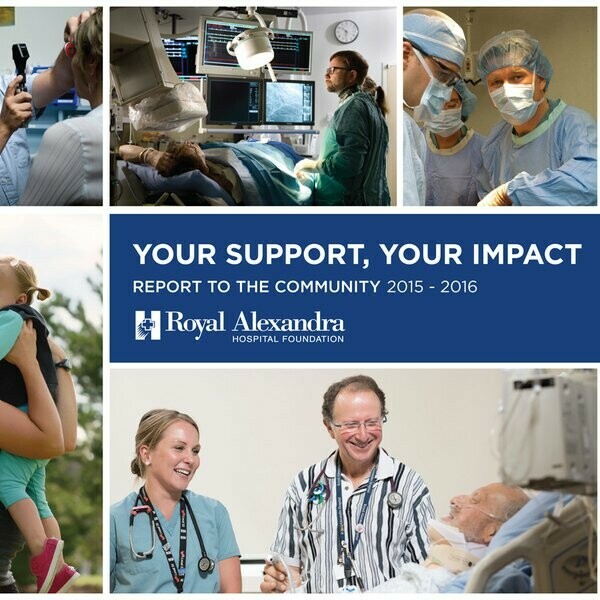 At a time in our province where fiscal restraint has become necessary and people are "crunching the numbers," this year's annual report to the community focuses on celebrating numbers. Our figures represent lives transformed: babies born, heart blockages cleared, addictions overcome, eyes saved, new hips and knees, and dozens more.
Thanks to generous community support, the Foundation continues to assist the Royal Alexandra Hospital to provide better healthcare by funding new medical technology, innovative patient programs, and exciting medical research. These marvelous medical advances — combined with compassionate patient care from the Royal Alexandra Hospital's exceptional team — are taking the patient experience to a whole new level.
On behalf of the Royal Alexandra Hospital Foundation team, thank you for all that you help us accomplish each and every year.
Dan Manning
Chair, Royal Alexandra Hospital Foundation
Andrew Otway
President & CEO, Royal Alexandra Hospital Foundation
As you browse through the 2016 Annual Report, look for links to videos, additional photos, and stories about our incredible donors and the campaigns supported by the community. You can also view the publication full screen for easier viewing or download the publication as a PDF using the toolbar at the bottom. Please feel free to share the link via social media! We hope you enjoy the digital version of our Report to the Community.
To view the 2016 Annual Report, click here