Stories of Hope

When Weeding the Garden is Feeding the Soul

Posted on: Jun 27, 2016

Averton employee Ken Watkins reflects upon a previous time at the Royal Alex and shares why he is so happy to be able to give back.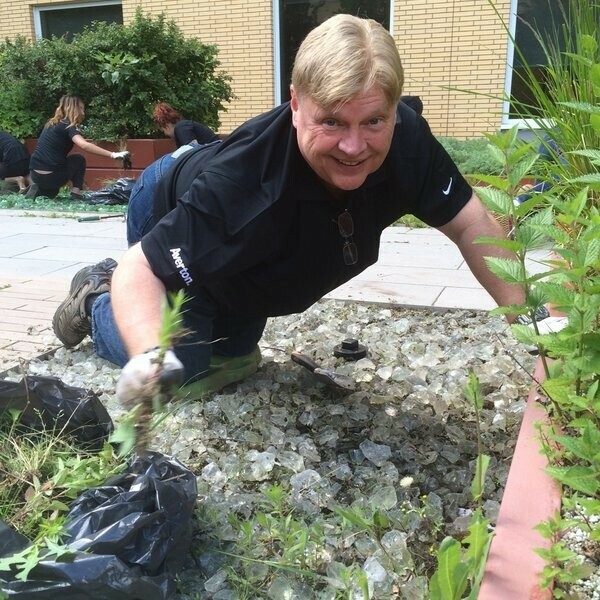 Ken Watkins leans forward on the two knee-pads strategically placed before him and reaches out with a gloved hand.  It's a beautiful sunny day on the grounds of the Royal Alexandra Hospital, where Ken and his co-workers at Averton Homes are spending a few hours volunteering their time to pull weeds atop the Ted and Lois Hole Rooftop Healing Garden.
When Averton owners, brothers Paul and Matthew Lanni, offered their company's help to weed and clean the healing garden, Ken knew he wanted to take part ― and he had a great reason for doing so, dating all the way back to 1980. That was the year, he says, the Royal Alex saved his life after a serious car accident caused massive trauma throughout his body impacting organs and bones.
DID YOU KNOW

Averton Homes, a home building company based in St. Albert, is a strong supporter of the Lois Hole Hospital for Women and the Royal Alexandra Hospital. The company has supported the purchase of the da vinci robotic surgical system and has volunteered to clean the Healing Garden each year for the past two years.
"I was in a head-on collision while entering Manning Drive, just off Highway 15," says Ken, who adds that wearing his seatbelt very likely prevented his death upon impact that fateful winter day.
At the Royal Alex, Ken says emergency and surgical teams worked to "put me back together" as the massive trauma to his body was so severe, he was kept in a medically induced coma for 13 days.  He was only 26 at the time.
"The Royal Alexandra Hospital saved my life.  And I still recall how the nurses on stations 42 and 43 cared for me in the many weeks that followed.  They were so kind and so compassionate."
As Ken, now 59, pulls the weeds before him, the repetitive, easy task allows his mind to ponder how fortunate he continues to feel 33 years later.
"I married. I had a family. I've been a cub and scout leader and a soccer coach. We have a grandson now who is the delight of our lives. His name is Zackary and he's almost 20 months old and he already knows how to make us laugh. He's my little buddy and I love him so very much."
The afternoon of weeding soon comes to a close, and the Averton employees, Ken included, have filled a total of 26 bags of weeds.  
"I love doing stuff like this. It's paying it forward.  And [Averton] is very mindful of giving back and making a difference.  It feels a little odd to be back here at this hospital ― so many memories and feelings, but I have to say that above all else, is the feeling of gratitude."
Left to Right: Andrew Otway, Rick Holmes, Kirsty Wilson, Matthew Lanni, Landon Carlson, Amber Carlson, Paul Lanni, Nicki Parsons, Kim Lougheed, Ken Watkins, Calvin Hollings, Jovie Bajar, Matt LaRose, Rebecca Priest, Lindsay Dyck, Sharlene Rutherford, Natalie Ozipko
The Royal Alexandra Hospital Foundation wishes to extend a huge thank you to Matthew and Paul Lanni and their staff at Averton Homes for their generous gifts of time, resources, and donations to our hospitals. Thank you for all you do.