Our Hospital, Our Stories

The Royal Alex selected as North America's first hospital-based safe consumption site

Posted on: Oct 19, 2017

After years of advocacy and effort, the approval of an in-hospital safe consumption site has finally become a reality for Dr. Kathryn Dong, Dr. Elaine Hyshka, and their team at the Inner City Health and Wellness Program at the Royal Alexandra Hospital.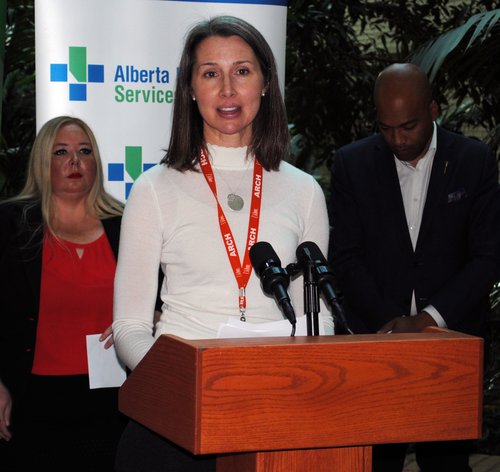 On Wednesday afternoon, Brandy Payne, Alberta Associate Health Minister, stated that the decision was made in order to help reduce a growing number of fatal drug overdoses and the spread of diseases.
"Evidence shows supervised consumption services save lives, reduce the spread of infectious diseases, reduce drug use in public and reduce the number of needles discarded on streets and public parks," Payne said Wednesday.
In attendance for the announcement was Dr. Verna Yiu, President and CEO of Alberta Health Services and Dr. Kathryn Dong, Director of the Inner City Health and Wellness program at the Royal Alexandra Hospital.  
"In hospitals, written or unwritten expectations of abstinence inadequately treated pain or withdrawal, and the ongoing stigma associated with drug use make it impossible for patients to implement their normal harm reduction practices," shared Dr. Dong. "Drug use in the hospital typically occurs in private, often locked spaces, in a hurry, without access to naloxone or a bystander to call for help.  Implementing supervised consumption services in our hospital will result in better care for our patients, but will also maintain a safe environment for our staff and visitors."
Also in attendance at the announcement was Elaine Hyshka, Scientific Director of the Inner City Health and Wellness Program at the hospital, who has been a champion of the initiative— serving as a key organizer over the past six years.
"In opening North America's first supervised consumption service for acute care inpatients, the Royal Alexandra Hospital is not only bringing a proven public health intervention inside the walls of the hospital for the benefit of patients and staff, but also enabling research on best practices in this area that will be of great interest to national and international audiences,"  stated Hyshka.
Edmonton is the first of two cities in Alberta, the other being Lethbridge, to gain Health Canada approval to offer safe injection sites for opioid drugs.
In addition to safe supplies, the approved sites—including the one at the Royal Alex—will offer health, counseling, and drug treatment services.
The site announced at the Royal Alex will only be available for inpatients at the hospital, and it is projected to open in the spring of 2018. 
For more information on the announcement, please visit the Edmonton Journal to read their coverage of the event.