Our Hospital, Our Stories

"The Dignity My Father Deserved" - Shawna from Calgary

Posted on: Jul 06, 2022

In early 2020, Shawna Hickling's father Dennis began experiencing symptoms of anxiety and depression, which ended up being symptoms of Lewy Body Dementia. Shawna recalls her family's story, and their experience receiving care at the Royal Alex.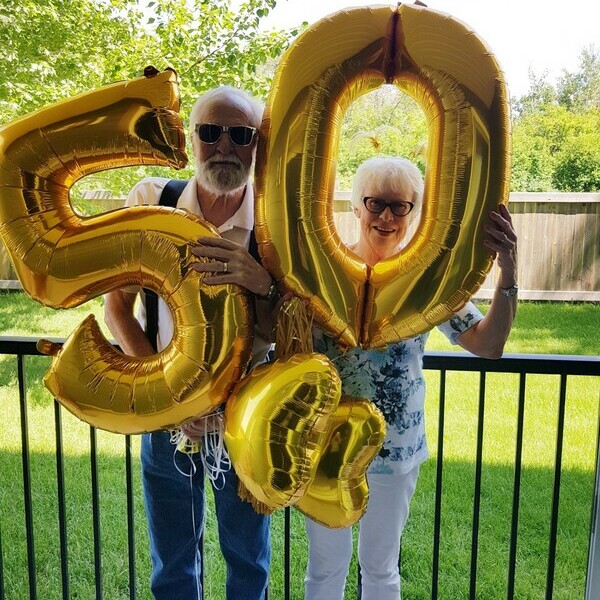 In early 2020, Shawna Hickling's father Dennis began experiencing symptoms of anxiety and depression. He and his wife, Sharron, had moved to Lloydminster in late 2019 to be closer to their two children; Shawna in Calgary and her brother, Micheal, in Sherwood Park.

Dennis began seeing a physician in Lloydminster, who started him on antidepressants. Seeing no results, he was also prescribed antipsychotics. Unfortunately, many uncomfortable side effects accompanied these treatments… and they still did not seem effective. 

"The doctor didn't clue in that the symptoms were associated with Lewy Body Dementia," said Shawna.

At what was meant to be a happy family event that summer, Shawna noticed, "Dad wasn't himself." Fast forward to March 2021, and Dennis was admitted to the local hospital for prostate issues.

Never an aggressive man, Dennis purportedly acted very aggressively that first night in the hospital—and others. The next few weeks were particularly painful. 

Still on anti-psychotics, Dennis "had agitated delirium, had to be restrained…It was AWFUL." Shawna's family adamantly requested a transfer, and Dennis arrived at the Royal Alex on April 3rd.
"We got a call that night from Dr. Kwong, who was amazing," Shawna described. "She had a geriatrician, a neurologist, an internist… they did every single test they could. They had someone sitting with him around the clock so that he didn't have to be restrained. The doctors phoned almost daily with updates, and because COVID-19 restricted visiting, the nurses would  even put the phone up to his ear so my mom and I could talk to him, it was incredible."
These are the types of Strong Relationships the Royal Alex strives to develop—with every patient and family member who comes into contact with our organization, and all those who work together to provide care.

Sadly, doctors informed the family that the damage from Dennis' dementia and prolonged agitated delirium might not be reversible. Sadder yet, his condition deteriorated. Dennis' care transitioned to palliative.

Dennis died on Saturday, April 24th, but before he passed, a pastor from the hospital came to provide a final blessing. "It was beautiful and I know it's something my Dad would've wanted," said Shawna. 

"It was obviously not the result we wanted, but the team at the Royal Alex did absolutely everything they could to help him," Shawna described. "My Dad was in a wonderful hospital with wonderful people when he passed, and we'll be forever grateful for that."
Thank you Shawna for sharing your family's story.
Click here to support elder care at the Royal Alex Hospital and help more people like Dennis
Click here to read this story's original appearance in our 2022 Annual Gratitude Report
Dennis Dashney and his family