Stories With Heart

Technology and Care Combine for Gift of a Lifetime

Posted on: Mar 09, 2016

Pete Ward wasn't completely surprised when he suffered his first heart attack. "With a history of heart disease in my family, you kind of feel like the grim reaper is always hanging around," says Pete with a good-natured chuckle.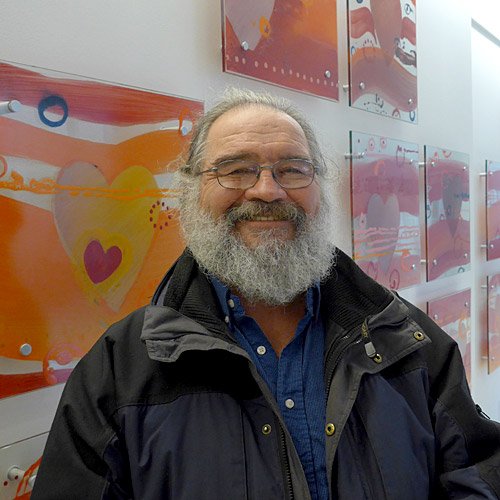 "On my mother's side, out of nine children, eight had heart issues," explains Pete. "On my father's side, all four had heart attacks. And although everyone lived healthy lifestyles, they all had heart problems. So I knew my turn was coming!"
As it happened, Pete's turn came in June 2012, when he suffered a heart attack. The cardiology team at the CK Hui Heart Centre quickly cleared Pete's blocked artery with a stent, a small mesh tube inserted into problem arteries to help restore normal blood flow. The procedure got Pete out of immediate danger, but doctors noticed another serious blockage that had been there for many years, known as a Chronic Total Occlusion.
Chronic Total Occlusion is when an artery has been completely blocked or almost completely blocked for an extended period of time. The cardiology team kept an eye on Pete's CTO, and he was told he would require further treatment.
"Living with something like this is not comforting," says Pete. "And I knew that the blockage wouldn't get better, so you feel like you've got a ticking time bomb inside your chest."
In 2014, Pete was treated by Dr. Raymond Leung to clear the blockage. Even after three hours in the catheter lab, the CTO could not be cleared, and Leung grew frustrated. He knew the technology that he needed to truly help Pete: the CrossBoss and Stingray systems.
"A CTO is tough to treat, since traditional catheters can't always penetrate the blockage," explains Dr. Leung. "The CrossBoss and Stingray systems provide us with a more powerful tool to treat these difficult cases."
The CrossBoss catheter is more or less like a traditional catheter, but has a blunt tip at the end of a grooved metal cord, resembling a miniature plumber's snake. The CrossBoss can push through the occlusion if the blockage is still relatively soft. However, if the blockage is hard, the CrossBoss can be directed around the blockage by moving into the second layer of the artery. (Arteries have three layers: the main channel, a second layer, and a third outer layer). After clearing a path through the second artery layer with the CrossBoss, the Stingray is then used to re-enter the inner layer of the artery. Cardiologists can then build a new pathway around the blockage to restore healthy blood flow.
At the time of Pete's initial treatment, the CrossBoss and Stingray technology was not yet available in Alberta. In time, the new technology arrived at the CK Hui Heart Centre, and it was time to get Pete back into the catheter lab.
This time, Pete was treated by Dr. Neil Brass, who needed two attempts to clear the stubborn blockage.
"Serious blockages can become very hard, almost like concrete," says Dr. Brass. "When that happens, it's not possible to stent the lumen of the artery and we have to consider other techniques. In Pete's case, we hoped that more than one attempt with traditional catheters would do the trick, but it became necessary to use the CrossBoss."
On December 21, 2015, Dr. Brass successfully used CrossBoss technology to reroute the blood flow around Pete's occlusion. With the holiday season soon approaching, Pete certainly had another reason to celebrate.
"What a wonderful Christmas present!" laughs Pete.
"To think that they can stick a wire in your leg and operate on a beating heart. And with almost no discomfort – I've had much worse at the dentist!"
While it was leading edge technology that helped his heart, what Pete mostly remembers is the expert patient care he received at the CK Hui Heart Centre.
"I got looked after very well, but I noticed that they treat everyone with the same level of care. While I was waiting for my own surgery, I noticed the team comforting an older woman who was clearly very anxious. Nobody lost their cool, they were all every calm and caring with this woman. I had a night nurse from a previous visit who recognized me the next time and came over to chat. With the volume of people who pass through here, you don't expect they will remember everyone. But they do!"
Leading edge medical technology at the CK Hui Heart Centre is made possible by the Royal Alexandra Hospital Foundation and is thanks to generous community support. While amazing technology helped Pete enjoy a better outcome, it was the dedicated and caring staff at the CK Hui Heart Centre that made the difference.
"We're very fortunate to have such good cardiac care in Edmonton," says Pete. "Between the CK Hui Heart Centre and the Mazankowski Heart Institute, I don't think most people realize how good we have it."