Our Hospital, Our Stories

Speaking of Estate Planning

Posted on: Nov 01, 2017

Longstanding donors and special friends of the Royal Alexandra Hospital Foundation filled one of the classrooms in the Robbins Pavilion Learning Centre on October 25th to hear a lecture on the essentials of estate planning by Joyce Burnett.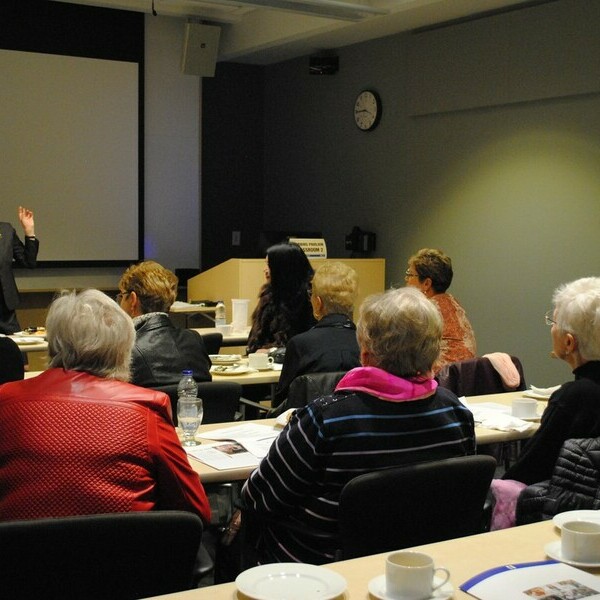 Melanie Nakatsui (Foundation Board Member) and Terry Tobin (the Foundation's Senior Development Officer for Estates, Bequests, and Planned Gifts) hosted the event. Together, they welcomed guests and introduced Joyce Burnett, who is a previous Royal Alexandra Hospital Foundation Board Member as well as a Will & Estate Consultant who works with clients throughout Alberta. Joyce is deeply experienced in areas of wills, estate planning, estate administration, trusts, and charities law. Joyce graduated from the University of Prince Edward Island with a B.Sc. and from Dalhousie Law School with a Bachelor of Laws.
Joyce spoke to the group of attendees on some of the steps and considerations necessary to create a will, such as what probate is, the differences between a power of attorney and a personal directive (also known as a living will), and how to include a bequest as well as structure wills to benefit children and charities as part of an estate plan. She then encouraged the audience to ask any questions, and not to be timid because in her own words: I have heard many, many surprising questions from audiences in the past – and none more so than when she spoke to a class of fourth graders. She laughed, recalling when a 10-year-old student once asked me, "Is it possible for my parents to cut me out of their will?" The 2- hour session ended with attendees feeling informed.
"I loved Joyce. Her talk was so helpful to people regardless of their level of familiarity, whether you were an individual with a young family or a person who has already reached retirement stage. It was equally useful. Joyce Burnett was fantastic and so knowledgeable." – Myrene Couves, Parkland County, Alberta.
Learn why Thomas and Melanie Nakatsui were so inspired to plan their legacy here. To learn more about estate gifts, and what it could mean to build a legacy of your own, please click here.