Our Hospital, Our Stories

September 30th is Orange Shirt Day

Posted on: Sep 28, 2020

Orange Shirt Day began in 2013 as a way for people to recognize and honour the Indigenous children who were sent away to residential schools in Canada as well as show one's commitment to learning more about the history of those schools.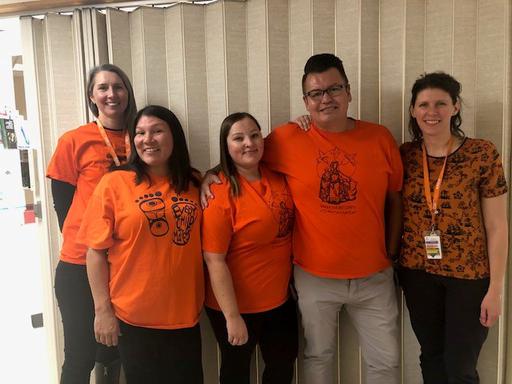 In addition to being home to its many medical centres of excellence, the Royal Alexandra Hospital is proud to be the hospital that operates the most community-focused programs in Alberta. 
These include Access 24/7 Mental Health and Addiction Services, Inner City Health and Wellness Program, Addiction Recovery and Community Health, and the Indigenous Wellness Clinic, which is part of the comprehensive provincial Indigenous Health Program that the Royal Alexandra Hospital Foundation supports.
The Indigenous Health Program partners with Indigenous peoples, communities and key stakeholders to provide accessible, culturally appropriate health services for First Nations, Métis and Inuit peoples in Alberta.
To commemorate Orange Shirt Day and support the Indigenous peoples of Canada, everyone is encouraged to wear an orange shirt on Wednesday, September 30th (where safe and appropriate). 

Wearing an orange shirt is meant to reflect, recognize and honour the children, families, friends, and intergenerational survivors of Canada's Indian Residential Schools.
By wearing an orange shirt, you are also saying you recognize the harm done to Indigenous residential school students and are committed to the principle that every child matters.
Orange Shirt Day grew out of a former student's account of having her brand-new orange shirt taken away on her first day of school. The event has become an opportunity to keep the discussion on all aspects of residential schools happening annually.
For more information on Orange Shirt Day, please visit: http://www.orangeshirtday.org/
We would also invite everyone to visit a recent blog post from President and CEO of Alberta Health Services, Dr. Verna Yiu.
In her post, Dr. Verna Yiu is joined by three key leaders at the forefront of Indigenous health in Alberta: Executive Director of Indigenous Health, Marty Landrie; Manager of Indigenous Health and Diversity in the North Zone, Shannon Dunfield; and senior advisor with the Cultural Competency team, Simon Ross.
Their discussion covers the group's thoughts on Orange Shirt Day, how we can help create a culturally safe environment, and how we work with Indigenous communities.
You can view the full post by clicking here, and see the video below.
Please join us in showing your support by wearing an orange shirt.