Stories With Vision

Seeing the Importance of Donating

Posted on: Jul 26, 2023

When unforeseen issues sent Verna and Dennis Huber to the Eye Institute of Alberta, their perspectives changed forever.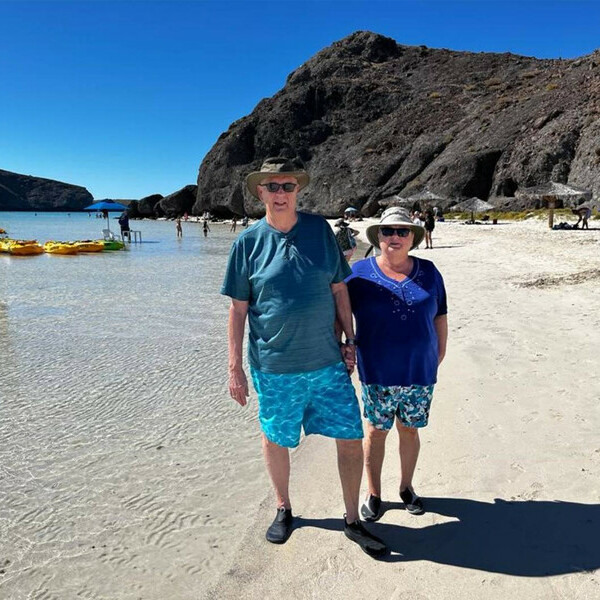 A 2011 vacation became a life-altering trip for Verna and Dennis Huber, one that would forever connect them to the Eye Institute of Alberta.
On that trip, Verna began experiencing vision troubles–everything seemed brighter than it should have. "When I wore sunglasses, I could see a little bit," she explained. "But when I took off my sunglasses, I couldn't see."
Thousands of kilometres away from home, the two felt powerless. "It got kind of scary," recalled Dennis. "I didn't know what to do."
After returning to Edmonton, the path to treatment was quick. The Hubers' family doctor referred Verna to the Eye Institute of Alberta and, within a day, she met with an entire team of specialists.
"They wanted to do a total scope of what was going on with her eyes," said Dennis.
Within hours, they had a diagnosis: retinopathy and uveitis. The blood vessels in Verna's retinas weren't working properly and she had a serious infection. Immediately, Verna was put on a treatment program, and she also needed to return for regular injections every few weeks for the retinopathy. When her condition worsened years later, she had emergency surgery at the Eye Institute.
While it was alarming initially, she knows she was in great hands. "From the time we got to the hospital, we had great service. They knew what they were doing, they made me feel so comfortable and not scared."
Verna still requires regular treatments for the retinopathy and that may continue for the rest of her life. Along the way, Dennis also received care at the Eye Institute–having surgery when his cataracts were progressing quickly.
The couple's experience has reinforced their respect and appreciation for healthcare professionals. "I just can't believe the quality of doctors that we have in this province," said Dennis. They are committed to donating regularly to the Eye Institute of Alberta–their way of caring for their own community just as they were cared for during their times of need.