Our Hospital, Our Stories

Royal Alexandra Hospital Foundation makes $61,500 gift to put winter warming bus back on the road

Posted on: Dec 07, 2017

Edmonton, AB - The Royal Alexandra Hospital Foundation is pleased to announce its climbing on board the Boyle Street winter warming bus with a $61,500 gift of support to bring the bus back on the road.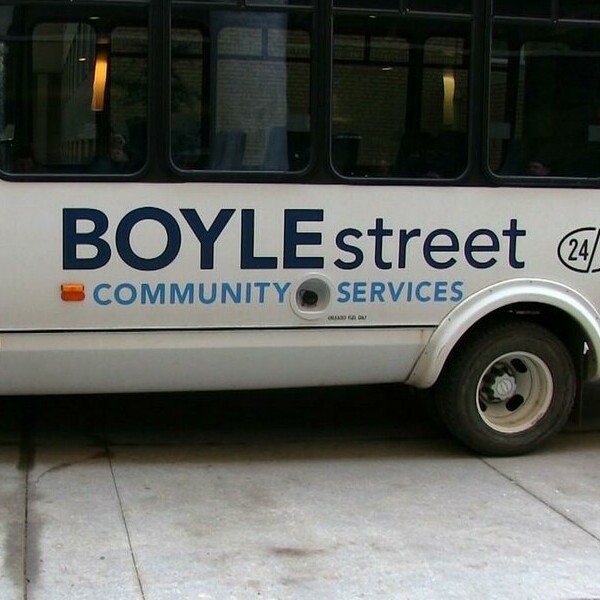 This morning at 9am, Andrew Otway President and CEO of the foundation presented a cheque for the remainder of the bus' annual operating budget to Boyle Street Community Services who operate the 15-seat bus that offers hot soup, winter clothes and a place to warm up for the city's homeless.
 "When I heard the news coverage that the winter warming bus service was in jeopardy I immediately knew our board and donors would be supportive of a gift of support," shared Royal Alexandra Hospital Foundation President & CEO, Andrew Otway. "We see this support as a natural extension to the work our hospital does to support Edmonton's most vulnerable residents. I really do think the work that Boyle Street does save lives. We see patients presenting in the emergency room at the Royal Alex who are homeless and they are suffering the effects." 
Since July 2014 the Royal Alexandra Hospital has been home to the life-changing work of the Inner City Health and Wellness Program and the Addictions Recovery and Community Health Clinic that operates within. The program originally obtained sole funding, for the first three years of operation from individuals, companies, charitable foundations and community organizations that pledged a grand tally of $4.25 million to the Royal Alexandra Hospital Foundation.
More recently the foundation has raised more than $260,000 to support another inner-city initiative called Pregnancy Pathways that is a unique partnership aimed at addressing the unmet housing and support service needs of homeless women in Edmonton who are also in many cases struggling with addictions and mental health issues.
 "This is fantastic news and an early Christmas present for our community, made possible by Edmontonians who stepped up with generous donations and the Royal Alexandra Hospital Foundation who provided the largest donation. We'll get this bus on the road and a lot of people will have an easier, safer and warmer winter. The kindness of people is both touching and overwhelming," said Boyle Community Services Executive Director, Julian Daly.
 The Royal Alexandra Hospital has faithfully served the health needs of its surrounding community for many years. As additional needs in the community arise, it's only natural that the Royal Alex support those needs whenever it is possible to do so.