Our Hospital, Our Stories

A look back: Royal Alexandra Hospital Foundation recognizes ten-year anniversary of historic Kilimanjaro Climb for hips and knees

Posted on: Aug 05, 2021

Ten years ago this week, a team of 37 embarked on a life-changing fundraising expedition to support the Orthopedic Surgery Centre. Climbing Mount Kilimanjaro, they raised an amazing $1 M that continues to have an impact today.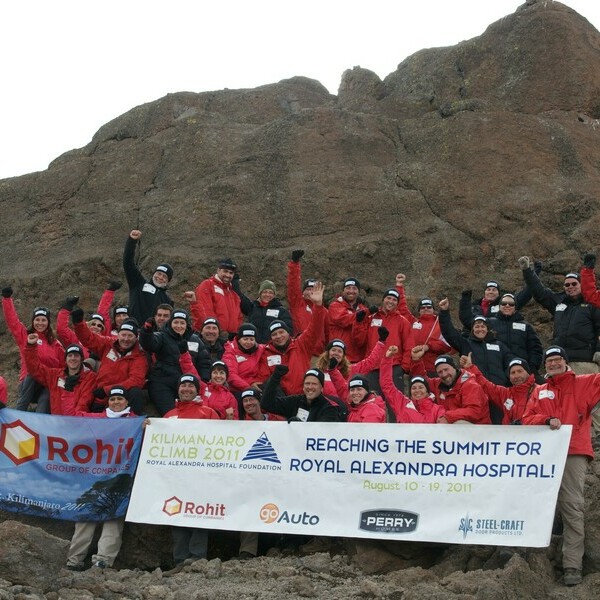 When patients receive a new hip or knee at Royal Alexandra Hospital's state-of-the-art Orthopedic Surgery Centre, there's no question that surgical outcome is top of mind; the capacity to return to a normal, functioning life, free from the debilitating pain of a deteriorating joint. Surgeries such as these may be common, yet for each patient, the procedure is life-changing.
Ten years ago this week, a team of 37 people were also thinking about outcomes, as they, too, embarked on a life-changing experience—a fundraising expedition and trek that would take them to the top of the tallest free-standing volcano in the world: Mount Kilimanjaro.
The Kilimanjaro Climb was a fundraising event organized by the Royal Alexandra Hospital Foundation that would support the purchase and installation of new technology for complex joint replacements, an advanced, computerized technology called the Integrated Surgical Navigation System.
It was an opportunity for ordinary folks to embark on an extraordinary adventure for an outstanding cause.
"People are unique in their muscle and bone structure and therefore the position of each implant is unique. Computer-assisted implants pinpoint the best placement—a precision that requires a smaller dissection area," said orthopedic surgeon Dr. Don Dick at the time, himself a member of the expedition team.
Leading the project were board members of the Royal Alexandra Hospital Foundation, Cathy MacDonald, Dr. Garnett Cummings, Debby Carlson, and Grant Ericksen. Current RAH Foundation President and CEO, Sharlene Rutherford, was a key organizer of the event, and reflects upon the journey that would take her and her teammates to 19,344 feet above sea level, the Rooftop of Africa.
"It was an exceptional experience that actually started in June 2010 as participants signed up and began their fundraising," says Rutherford. "Ultimately, 37 people comprised the team and $1 million was raised for the surgery centre."
Rutherford is quick to remind that corporate sponsorship of the climb was an essential and key part of fundraising success. "We were truly fortunate to have early commitment by well-known and respected Edmonton companies Rohit Group, Go Auto, Perry Homes, and Steel-Craft Door Products Ltd."
The climb attracted wide-spread media attention not only in the Edmonton region but across Canada, as the team included four Canadian soldiers who sustained serious injuries while serving in Afghanistan. The Department of National Defense approved their participation in the expedition as part of a rehabilitation process and the four young men, one of whom was a double-amputee, inspired an entire nation.
"Our Kilimanjaro Team would not have been the same without Corporal Lucas Mullins, Corporal Mark Fuchko, Private Dallas White, and Warrant Officer Quinn Beggs," continues Rutherford. "It's difficult to complain about a long day of trekking while side-by-side with four recovering soldiers, one of whom has two prosthetic legs."
Starting August 10, 2011, the group set out and was guided along the Rongai Route, which rises from the Kenyen side of the mountain and is considered the most appropriate route for the "all ages, all stages" participants—the eldest of whom was just over 70. At 1:00 am on August 17, the team began its push for the summit, zigzagging along the rough volcanic scree, guided by their headlamps and their African porters. It was a tough five-hour climb to the crater rim at Gillman's Point to watch the sunrise, followed by another three-hour round trip to Uhuru Peak, the high-point of the African continent at 5,895 meters. Of the 37 climbers, 25 reached the summit.
"There's no question it was hard to watch our teammates succumb to the affects of altitude. We had trained together and fundraised together, for over a year. But altitude is not something one can train for—unfortunately," says Rutherford.
Nonetheless, the Kilimanjaro Team returned home to Edmonton triumphant in its goal, having raised significant dollars for healthcare—and still impacting orthopedic outcomes now a decade later.
"That's the thing about contributing to a cause in healthcare: it's a long-term difference maker. As a team of 37 and four corporate supporters, we purchased technology that continues to positively impact the trajectory of care for thousands of people. Now that's a mountain-top experience that we continue to celebrate."
The Royal Alexandra Hospital Foundation wishes all members of the Kilimanjaro Team a happy anniversary and extends a heartfelt thank you for the continued impact in patient care.