Stories of Hope

Painting to Remember

Posted on: Aug 28, 2017

The loss of a baby can bring a family pain beyond words. Thanks to a local group of activated women when a family leaves the Lois Hole Hospital for Women without a baby in their arms, their memories can be held in a special hand painted box.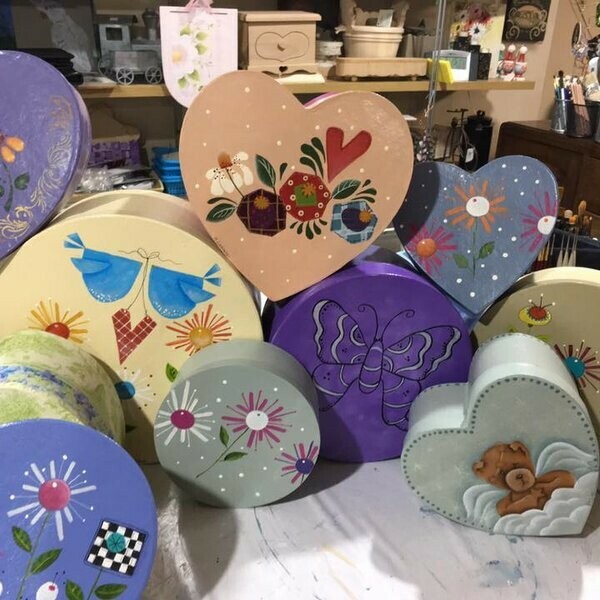 The idea behind the Memory Box Program began in the city of Edmonton years ago by a decorative painting instructor, Erin Gardner. Erin was a vibrant woman full of personality who was a Registered Nurse and loved to paint, quilt, sew, and knit. Years ago Erin lost a child herself. It was after her own personal loss that she learned about the touching impact that these memory boxes can have on a family. 
Erin shared the idea of creating memory boxes with her students, an initiative first started in the U.S., and together they started a group that would paint and donate the boxes to local hospitals where babies were loved and lost. 
 "Erin was a character. She loved to paint, she was an awesome teacher and an even more wonderful friend." 

Linda Bosch
Never meant to replace the child, instead, the memory boxes are given to families to signify the baby's impact on the family and to be a beacon of light in what would no doubt be challenging days, months and years ahead. 
The group of women bound together by creativity and friendship continued to produce memory boxes as often as possible with Erin leading the charge. Sadly, eight years ago Erin developed a brain tumor and was no longer able to lead the group in the creation of the boxes. A member of the group Lorraine Fletcher stepped up to continue the work when Erin could not, and her passion for the initiative remains just as strong today as it was when they began many years ago. 
Each box created is hand painted, hand-signed and accompanied by a note of support that states, "We hope this box brings you some small comfort and the knowledge that we know your child was special and loved very much."
This past February the group lost their original leader and dear friend Erin. Erin's husband, unsure of what to do with all of her paint supplies, knew who to go to for help. Lorraine and another member of the painting group decided to offer Erin's friends and students her painting supplies in return for a donation to the Perinatal Bereavement Program at the Lois Hole Hospital for Women. 
 "I feel as though I've received a call to action with these memory boxes. All families who have lost a child, deserve the comfort of knowing that someone is thinking of them in their time of loss." 

Lorraine Fletcher
Erin's memory lives on today through the work of this special group of women. Each box created since Erin's passing has a label that shares with recipients the memory of Erin, who she was, the things she loved, and the statement that it is because of Erin that the boxes exist today.
Interested in Showing Your Support?
The Lois Hole Hospital for Women sees five infant losses per week. To support our hospital alone for one year more than 250 hand-painted boxes need to be created. To learn more about how you can donate time or supplies to the Memory Box Program please contact Lorraine.