Our Hospital, Our Stories

Metabolic monitor optimizes nutrition for COVID-19 patients

Posted on: Jun 16, 2021

The Royal Alexandra Hospital is the first in nation to use new technology in ICU—the Q-NRG+ metabolic monitor—optimizing nutrition for all high-risk patients, including COVID-19 patients.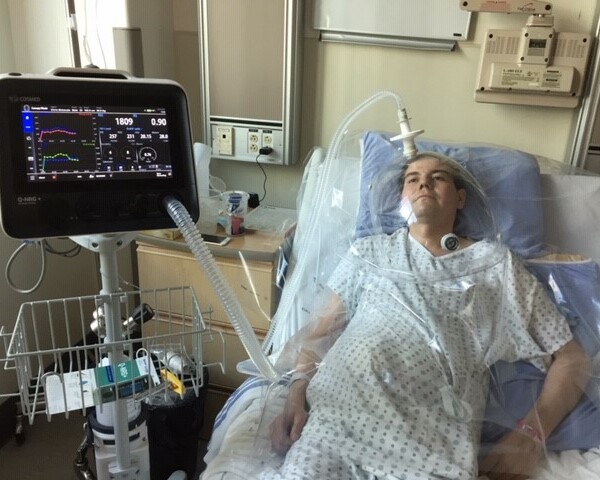 ORIGINALLY PUBLISHED HERE BY AHS
Story by Sharman Hnatiuk | Photo by Cathy Alberda

---
EDMONTON — The Royal Alexandra Hospital (RAH) has become home to the first Q-NRG+ metabolic monitor in Canada, which helps the clinical nutrition team ensure COVID-19 patients are receiving the calories they need to help with their recovery.
The new device measures oxygen and carbon dioxide levels in patients' breath to determine their resting energy expenditure. This helps clinicians assess and meet the nutritional needs of both ventilated and non-ventilated patients. Upon its arrival in January, during the second wave of the pandemic, the new Q-NRG+ monitor replaces older technology and is compatible with new ventilators in the intensive care unit (ICU).
Helping patients receive the appropriate nutrition improves their outcomes, quality of life and reduces their length of stay in hospital.
"Ensuring our patients receive appropriate nutrition became ever more important for our COVID-19 positive patients because there was no literature or guidance on how to feed them when they were in the ICU on a ventilator," says Cathy Alberda, clinical nutrition program lead, RAH.
"We learned that the energy-expenditure needs of some COVID ICU patients stayed high weeks longer than traditional ICU patients, so the new device has been very useful to help tailor the nutritional support for each COVID-positive patient."
Nicole Journault, a registered dietitian in the RAH ICU, says she's grateful to have access to the new device during the pandemic. 
"The new equipment is more portable, easy to use, and we can get meaningful information in around five to 10 minutes," she adds. "All operational pieces on the new device can adapt to new ventilators in the ICU and are disposable, so there's no delay for cleaning or sterilizing equipment. This has been very helpful for all the patients with COVID and enhanced isolation requirements in the ICU."
The new device allows clinicians to optimize nutrition for all high-risk patients, including COVID-19 patients. Donors to the Royal Alexandra Hospital Foundation contributed $34,000 for the new equipment.
---
Photo: Christopher McKenzie breathes easy under a canopy while the Q-NRG+ metabolic monitor determines his resting energy expenditure, helping dietitians at the Royal Alexandra Hospital tailor his nutrition needs.