Our Hospital, Our Stories

Lindsay's Legacy

Posted on: Nov 29, 2022

Lindsay was always trying make the lives of the people around him better. His thoughtful legacy gift will help improve the lives of people in palliative care.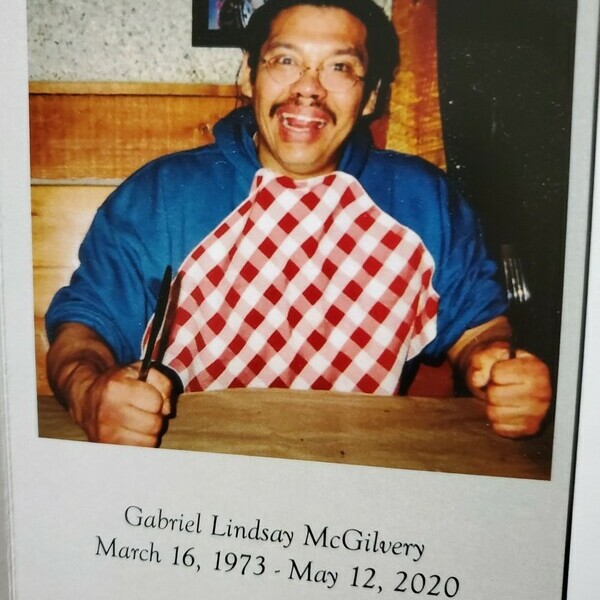 Lindsay McGilvery was not an easy person to forget.
Known as a "gentle giant" with a playful sense of humour and a generous spirit, Lindsay was always trying to make people smile and feel included. "He had the best laugh," remembers his lifelong friend, Lucy. "When he was laughing, he would just glow."  
 Lindsay's positivity was especially notable despite a lifetime of hardship and struggle. Due to an injury that left him unable to work, Lindsay endured periods of instability, including precarious housing situations that left him without a home. Despite having few material possessions, he was always the first one to share with others what he did have.
"He was so compassionate. Always thinking about other people. He would literally give you the shirt off his back and the shoes off his feet if he saw someone needed it. He was just that kind of person," Lucy said.  
When Lindsay started to face health issues, he found himself in the care of Dr. Bablitz at the Indigenous Wellness Clinic out of the Royal Alexandra Hospital.  
"We were so lucky to find Dr. Bablitz. Some people just love their jobs and go above and beyond for the people they care about." Lucy noted. "She was there for him every step of the way."  
When Lindsay was diagnosed with gastric cancer, with the help of Dr. Bablitz, he was able to find a room at George's House – a palliative care home designed for individuals who are nearing end-of-life and are either experiencing houselessness or would be at risk of becoming houselessness without supportive, person-centered palliative care services. 
While undergoing cancer treatment, Lindsay learned he would be receiving funds from the federal government due to his experience as a residential school survivor.  
Touched by the incredible quality of compassionate care he received during his stay at George's House, Lindsay chose to donate these funds to the Small Wishes Program – which helps grant end-of-life wishes to residents at George's House. Lindsay wanted to make sure his gift would benefit someone like him – helping to improve the quality-of-care vulnerable populations receive and help George's House continue to do its important work.  
Lindsay sadly passed away from cancer in 2020, but memories of his benevolence and selflessness will not be forgotten. His gift is a reminder that no matter who you are or where you come from, you can make a real, lasting impact. 
Read this story and others in our recently published Annual Report.