Our Hospital, Our Stories

Honour Roll 2016 - A Celebration of our Donors

Posted on: Jun 29, 2016

Celebrating incredible community support for the Royal Alexandra Hospital, now available in a new, digital version.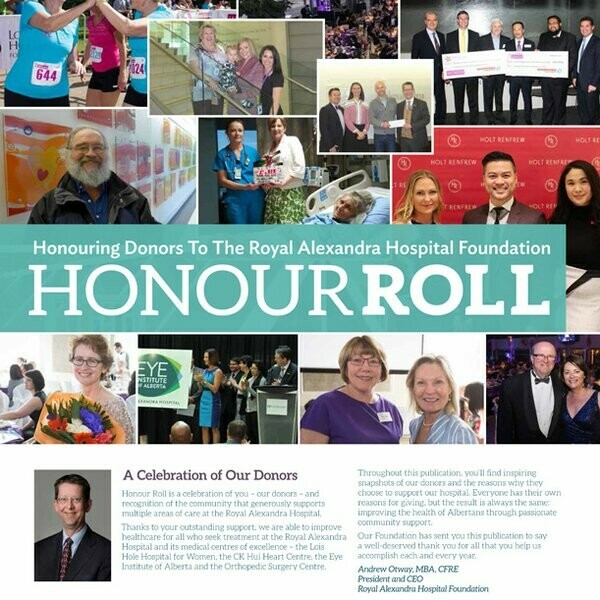 Every year, the Royal Alexandra Hospital Foundation is pleased to publish Honour Roll, a celebration of generous community support for multiple areas of care at the Royal Alexandra Hospital.
Thanks to your outstanding support, we are able to improve healthcare for all who seek treatment at the Royal Alexandra Hospital and its medical centres of excellence – the Lois Hole Hospital for Women, the CK Hui Heart Centre, the Eye Institute of Alberta and the Orthopedic Surgery Centre.
Throughout Honour Roll, you'll find inspiring snapshots of our donors and the reasons why they choose to support our hospital. Everyone has their own reasons for giving, but the result is always the same: improving and saving patients' lives.
This year, we are pleased to present an interactive, digital version of Honour Roll. This dynamic online publication includes extra digital media, a search function, and links to more detailed stories about our donors. Be sure to look for them as you explore the publication. 
On behalf of our Foundation team, thank you for all that you help us accomplish each and every year.
Andrew Otway MBA, CFRE
President and CEO
Royal Alexandra Hospital Foundation


As you browse through Honour Roll, look for links to videos, additional photos, and stories about our incredible donors. You can also view the publication full screen for easier viewing or download the publication as a PDF using the toolbar at the bottom. If you are a donor, you can search the publication for your name by using the search function in the upper right hand corner. Please feel free to share the link via social media! We hope you enjoy the digital version of Honour Roll.