Our Hospital, Our Stories

Happy anniversary: The Lois Hole Hospital Women's Society celebrates five years

Posted on: Jun 30, 2022

Supporters and friends joined together at SYC Brewing to celebrate the special occasion on Thursday, June 16th, 2022.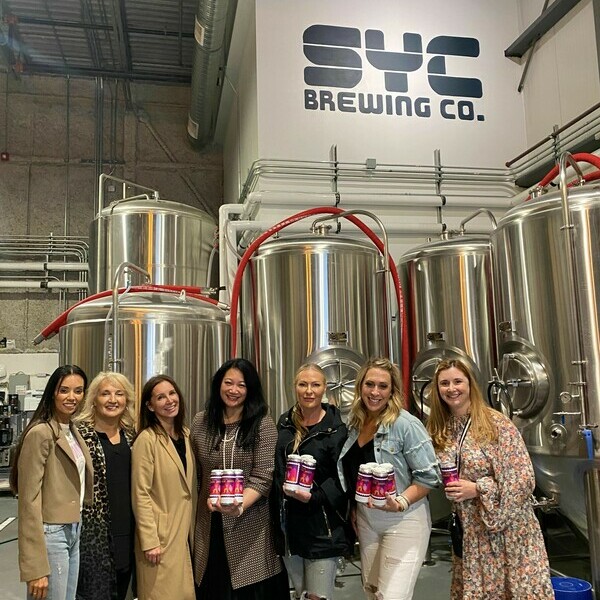 After two years of virtual events, the Lois Hole Hospital Women's Society (LHHWS) was finally able to meet in person to celebrate something special – the five-year anniversary of the Women's Society.
To mark the occasion, past and present members of the LHHWS, as well as friends and colleagues all came together at SYC brewing for a night of merriment and reflection. SYC Brewing created a special branded beer for the occasion and donated funds from every sale to the Women's Society, totalling $2689.04!
At the event, guests heard from one of the founding members of the Women's Society, and current chair, Lisa Diamond, and Sharlene Rutherford, the President and CEO of the Royal Alexandra Hospital Foundation. The two speakers recounted some of their favourite memories from the last five years and praised the hard work of the society members for their success in improving women's healthcare.
Over the past five years, the Lois Hole Hospital Women's Society has raised over $500,000 for critical medical equipment for the Lois Hole Hospital for Women, such as the FireFly, a Fluorescence Imaging Upgrade to the DaVinci Surgical Robot, the OBIX Perinatal Interface System, as well as contributions to the 7th operating room and a renovation to the compassion room at the Lois Hole Hospital for Women, to name a few. Praise was also given for the LHHWS' monthly What The Health: Mind + Body Talks that bring women together once a month to discuss issues that impact women in a safe, inclusive space. 
The two co-founders and former co-chairs, Krista Ference and Melanie Nakatsui were also in attendance at the event, where they received special thanks for their vision and dedication to the Lois Hole Hospital Women's Society, and the progress that has been made under their leadership and guidance.
Thank you to everyone who came to the event, bought LHHWS X SYC beer, and who have supported the Women's Society over the past five years. Your generosity means everything. We can't wait to see what can, and will, be achieved over the next five years thanks to this team of incredible volunteers.
If you would like to donate to the Women's Society or become a monthly supporter, click here.