Stories With Vision

Getting Back to Regular Life

Posted on: Nov 03, 2015

Marvin Katz loves to drive, whether it's the bus he drives for a living or the motorcycle he rides for fun. Two and a half years ago, being behind the wheel was suddenly in jeopardy.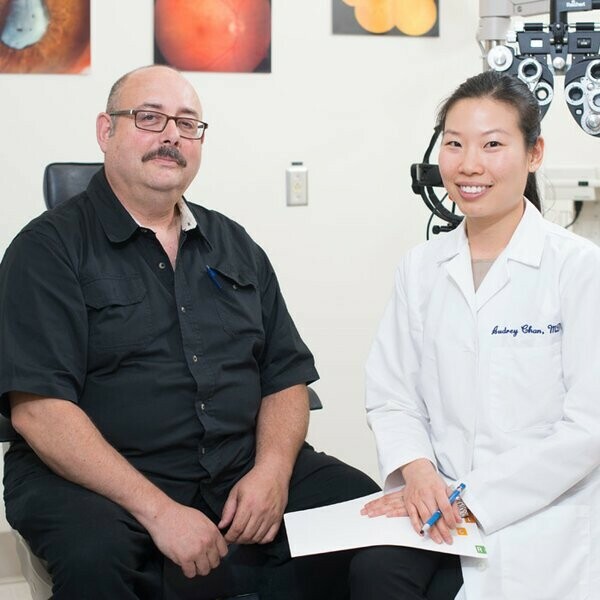 Marvin found himself sidelined after being struck by Bell's palsy, a form of temporary facial paralysis caused by a nerve dysfunction. As a result, Marvin couldn't completely close his left eye, leaving it dry, uncomfortable, and susceptible to damage.
"Suddenly, I was limited in what I could do," explains Marvin. "I could still read, but my peripheral vision was compromised, and I couldn't blink or close my left eye. I couldn't get back to work unless something was done."
After a series of medical treatments for his palsy, Marvin was referred to Dr. Audrey Chan at the Eye Institute of Alberta at the Royal Alexandra Hospital to deal with his eye problems. After learning more about Marvin's case and lifestyle, Dr. Chan surgically implanted a thin, delicate weight in his left eyelid, allowing him to once again blink and close his eye. Thanks to regaining almost normal control over the eye again, his peripheral vision has returned.
"I'm really grateful to get back to my regular life – and that's all thanks to the Eye Institute of Alberta."
The unusual incident that led to Marvin's eye problems speaks to the wide range of conditions, trauma, and eye diseases which lead people to treatment at the Eye Institute of Alberta. Dr. Chan sees this as an advantage when treating her patients.
"It's fantastic to have so many specialists in one clinic," says Dr. Chan. "If I have a patient who I see for one eye issue, but they need a retina specialist, I only have to walk across the hall to discuss the case, instead of sending the patient to another location. It certainly allows us to provide superior patient care." 
Marvin is now back at work and still gets to take his beloved motorcycle for a spin on the weekends.