Our Hospital, Our Stories

Full House Lottery: Funding Innovative Healthcare

Posted on: Dec 07, 2016

There is not a corner of the Royal Alexandra Hospital that hasn't been touched by Full House Lottery.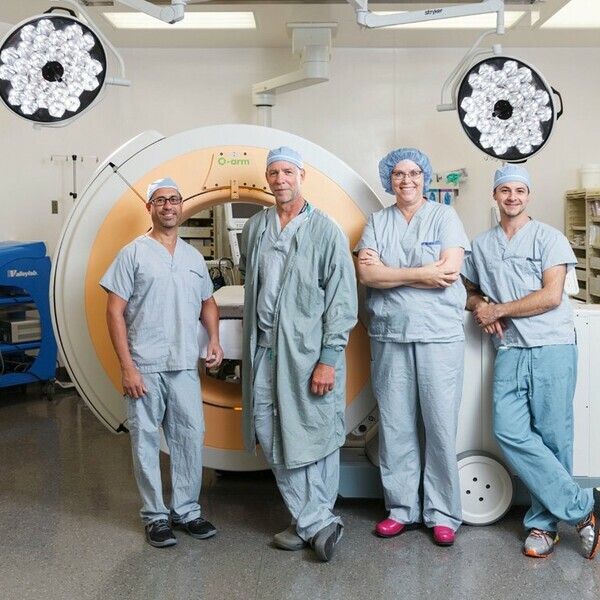 20 years of funding from the popular Alberta lottery (in partnership with the University Hospital Foundation) has resulted in significant facility improvements to the Lois Hole Hospital for Women, the CK Hui Heart Centre, the Orthopedic Surgery Centre, and the Eye Institute of Alberta.
The latest medical technology at the Royal Alex to be funded by Full House is the incredible O-Arm Surgical Imaging System. The O-Arm is designed for use in spine, orthopedic, and trauma-related surgeries. It provides surgeons with real-time, detailed imaging of a patient's anatomy with high quality 3D and 2D images. These live images make surgery easier, quicker and safer.
The O-Arm was delivered to the Royal Alexandra Hospital in the summer of 2016 and has quickly proved itself to be invaluable in the Royal Alex's busy surgery centre. Dr. Richard Fox is a neurosurgeon who enthusiastically explains the benefits of the O-Arm system.
"In surgery, our goal is always to improve outcomes, to have patients have shorter stays in hospital," says Dr. Fox. "Technology plays a big part in achieving that goal. The O-Arm is essentially a really tiny Global Positioning System with tremendous accuracy. Whether it's orthopedic, trauma, or spine surgery, the O-Arm gives us detailed images in real time and allow surgeons to be more precise in their work."
"The O-Arm system has brought surgery at the Royal Alex to the next level," says Kathy VanVeen, Patient Care Manager at the Royal Alexandra Hospital. "On behalf of our surgical team, I want to thank Full House Lottery ticket buyers across Alberta for making this wonderful technology available for our patients."
Photo: Members of the Royal Alexandra Hospital's Department of Surgery pose with the O-Arm Surgical Imaging System.