Our Hospital, Our Stories

Full House Lottery 2020 a Sell Out Success

Posted on: Jun 23, 2020

Through professional care and groundbreaking research, the Royal Alexandra and University Hospitals support the most patients in Edmonton. Thank you ticket buyers for making this year a smashing success.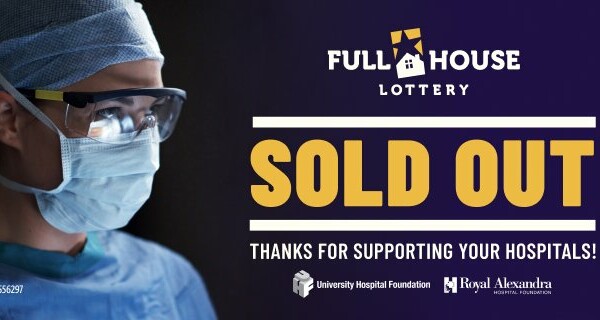 This year more than ever, Edmonton's two largest hospitals needed your support and buyers responded when called on to sell out this year's Full House Lottery. 
For 4,300 patients a day, the Royal Alex and University Hospitals provide professional care for health issues from the simplest cases to the extremely complex - and groundbreaking research that shapes the future of healthcare in Alberta and the world.
This year's lottery buyers have provided funds for: 
WOMEN'S HEALTH RESEARCH AT THE LOIS HOLE HOSPITAL FOR WOMEN
Women have only been included in clinical trials for 20 years, despite 75% of adverse drug reactions occurring in women. Researchers at the Lois Hole Hospital for Women are working to change this. Full House Lottery supporters have made an investment in women's health research meaning better health outcomes for women in Alberta and around the world.
MULTIPLE SCLEROSIS RESEARCH AND CARE AT THE UNIVERSITY OF ALBERTA HOSPITAL
On average, 11 Canadians are diagnosed with MS everyday and Alberta specifically has one of the highest rates of MS in the world. Ticket buyer support will help advance research and improve patient care both in hospital and in the community. Help Alberta become a world-leader in MS treatment - and bring us all one step closer to a cure.
On behalf of the 4,300 patients who rely on our hospitals each day, thank you, for your support of the Full House Lottery.
Winners will be announced on July 9th, 2020 at fullhouse.ca.