Our Hospital, Our Stories

#FoundationsOfGratitude: Show Support for Hospital Heroes during COVID-19 Crisis

Posted on: Apr 16, 2020

The #FoundationsOfGratitude campaign, launched today, encourages all Albertans to show their appreciation for healthcare workers and support staff during this challenging time by decorating their windows with hearts.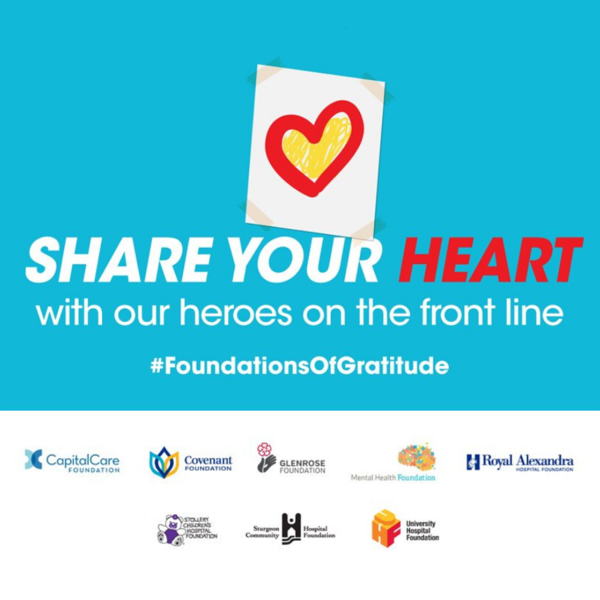 We're facing a battle that has changed the way we live. At a time when we're all being asked to keep our distance, local health foundations are coming together to thank all our vital front-line care workers from the bottom of our hearts – and we're asking all Albertans to join us.
The campaign, initiated by eight Edmonton area health foundations – the Royal Alexandra Hospital Foundation, the University Hospital Foundation, Stollery Children's Hospital Foundation, Covenant Foundation, Glenrose Rehabilitation Hospital Foundation, Capital Care Foundation, Mental Health Foundation and Sturgeon Community Hospital Foundation – brings Alberta's health foundations and the community together in a show of support for healthcare workers and support staff during the COVID-19 pandemic.
"Our healthcare team is on the front lines fighting COVID-19, keeping Albertans safe and ensuring patients receive exceptional care they need," said Dr. Verna Yiu, CEO of Alberta Health Services. "We were so touched to hear about this campaign initiated by foundations, and hope that when our healthcare and support teams see all these hearts in the windows of people's homes on their way to and from work, they'll know the community is behind them."
"We are so thankful for the compassion and leadership our health care workers have shown as they respond to the COVID-19 crisis. Throughout this challenge, they remain focused on providing high quality care to every patient, resident and their families," said Patrick Dumelie, CEO of the Covenant family. "We know Albertans are grateful, and their support and encouragement is evident in actions like these."
Albertans are being asked to join the foundations in sincerely thanking and showing support for our talented and devoted health heroes, by creating and placing hearts in their windows at home, and sharing images of their "heartwork" and messages of support using #FoundationsOfGratitude and by tagging the Royal Alexandra Hospital Foundation on Instagram, Twitter and Facebook when you do!
Thank you Alberta for showing your support!