Our Hospital, Our Stories

FC Edmonton Partners with Royal Alexandra Hospital to Help Treat Patients with COVID-19

Posted on: Apr 17, 2020

FC Edmonton is launching a fundraising campaign to benefit the Royal Alexandra Hospital in its effort to treat patients with COVID-19.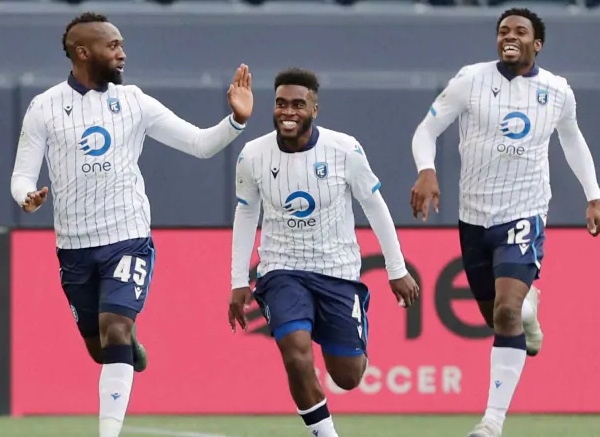 FC Edmonton is launching a fundraising campaign to benefit the Royal Alexandra Hospital in its effort to treat patients with COVID-19.
Healthcare professionals continue to provide treatment to patients at the hospital with Coronavirus, and important equipment needed to assist them is currently in short supply. 
The campaign, titled "FCEd Shorts for the Shortage," is designed to raise funds to purchase equipment needed by the hospital, and the goal to raise is a minimum of $4,500. The campaign will began on Wednesday, April 22 and it will end on Sunday, May 3 at 11:59 PM (MT). 
To support the campaign, fans are encouraged to purchase a special package that includes a pair of  FC Edmonton logo athletic shorts, a team signed poster, a VIP experience, and designation as a "COVID Community Commando" with exclusive recognition at a future FC Edmonton home game. 
All proceeds from the sale of the COVID Community Commando Packs will be donated directly to the Royal Alexandra Hospital Foundation. Fans can learn more details about the campaign and purchase packs for $25 each by visiting the organization's website. 
"Sports has always been a way to bring communities together and now more than ever we need to all embrace our community, and stand by our health care professionals as they provide our first line of defence against COVID-19," FC Edmonton Head Coach and Interim General Manager Jeff Paulus Said. 
The items for which are in short supply include: Mobile poles for holding intravenous (IV) bags, portable cardiac monitors, portable vital signs machines, storage carts for holding Personal Protective Equipment (PPE), and iPads (so doctors and nurses are able to communicate with patients without being in close physical proximity to them).
"We are tremendously grateful to FC Edmonton for its community-mindedness," Sharlene Rutherford, President & CEO of Royal Alexandra Hospital Foundation said. "The Royal Alex is taking both a sword and shield approach to the COVID pandemic.  On one hand, we have the true courage of our frontline care providers who, while concerned for their own health and that of their families, stay the course and battle on to save lives each day; Meanwhile, our clinician-researchers are taking an offensive position by directly participating in clinical trials.  This is research that will ultimately help us win the war. Thank you FC Edmonton, and thank you to your fans, for helping this hospital save lives today and tomorrow."
Fans are also encouraged to help promote the campaign by sharing #FCEdShortsForShortage on their social media pages. Get your COVID Community Commando Pack now!