Stories of Hope

Edmonton Eskimos Women Score a Touchdown for Ovarian Cancer Research

Posted on: Jun 29, 2018

The Edmonton Eskimos are one of the most successful CFL franchises of all time, and this past spring, their team of staff and volunteers proved once again that they are also a force to be reckoned with in the battle against ovarian cancer.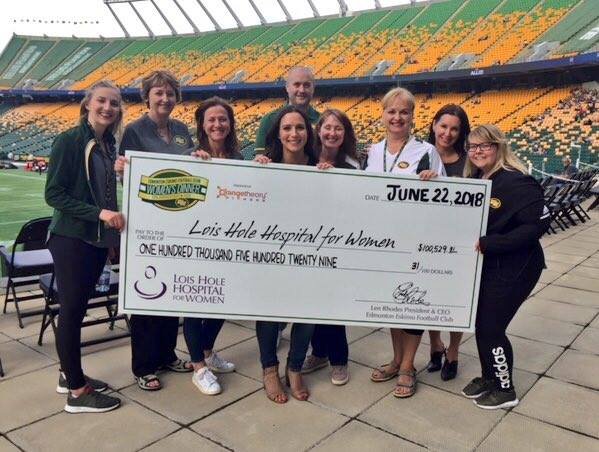 On May 10th, the annual Edmonton Eskimos Women's Dinner celebrated their 10th anniversary in the best way possible, by raising over $100,000 dollars in support of ovarian cancer research.
This record-breaking amount contributes to the Edmonton Eskimo Women's Ovarian Cancer Research Endowment Fund, which was set up in 2008, in memory of long-time Eskimos friend and employee Pam Monastyrskyj, who lost her own hard-fought battle to ovarian cancer in 2005. The endowment fund strives to provide long-term, sustainable funding for researchers at the Lois Hole Hospital for Women who are currently working toward the discovery of early identifiers for this devastating disease.
Thanks to the foresight and fundraising abilities of the Edmonton Eskimos leadership and their team of staff and volunteers, the Edmonton Eskimos Women's Ovarian Cancer Research Endowment has raised well over half a million dollars since its inception in 2008. 
This year's event featured keynote speaker Dr. Lynne Postovit, Sawin-Baldwin Chair in Ovarian Cancer at the Lois Hole Hospital for Women and an Associate Adjunct Professor in the Department of Obstetrics & Gynecology, University of Alberta. Dr. Postovit shared with attendees the impact their support continues to have on her research. Research that is on track to change the future of ovarian cancer diagnoses in the future.  
"More than half of the women diagnosed with ovarian cancer will die within five years.  Thank you for enabling me to stay focused on what's important ― finding an early biomarker that will allow women to be diagnosed sooner.  I really appreciate being part of these dinners and I look forward to attending next year," shared Dr. Postovit from the podium.  
The Edmonton Eskimos Women's Dinner is a night to be remembered by all who attend. Rubbing shoulders with some of the CFL's best and sipping champagne in the Eskimos locker room won't soon be forgotten. The wonderful dinner, and entertainment provided by the Eskimos Cheer Team ensure all who attend leave not only with a full stomach but a full heart as well. 
Thank you Edmonton Eskimos team, staff and volunteers for all that you do to ensure a brighter future for families affected by this terrible disease in the future.