Stories With Vision

Double the dollars while recognizing a mom in your life

Posted on: May 05, 2020

Even though you may not be able to spend time in-person with a mom you love this Mother's Day, you can still share your love with them with a donation, flowers and an ecard all in support of the Royal Alexandra Hospital Foundation and the Lois Hole Hospit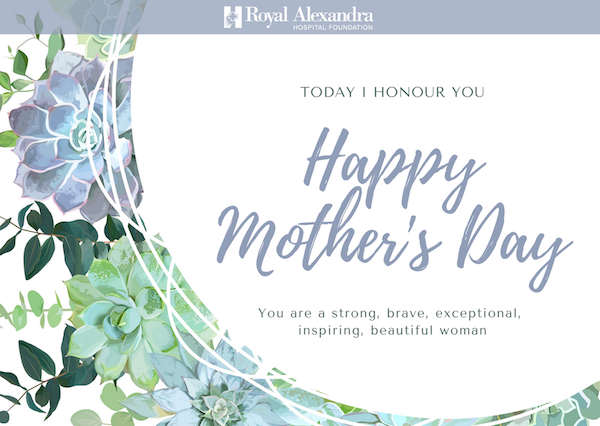 Recognizing a mom you love this Mother's Day from a distance is simple with a donation that doubles and flowers that support the Royal Alexandra Hospital Foundation.
Save-On-Foods is working with four hospitals across Western Canada, including the Lois Hole Hospital for Women in support of women's health this Mother's Day through their Bunches of Love campaign! It's easy to support this fantastic initiative. All you need to do is buy a mom you love flowers this Mother's Day and 100% of net proceeds will be donated to support women's health programs across Western Canada. Your support will help fund the most critical needs of the hospital which in turn will save lives and strengthen our community.
Double Your Donation Thanks to Two Lede Family Foundations
In addition to a beautiful bouquet of flowers making a donation in honour of a mom you love is a brilliant way to show her how much she means to you. 
For three consecutive years now the Cliff Lede Family Charitable Foundation and the William and Florence Lede Family Foundation have chosen to support Pregnancy Pathways, a program that provides a home to pregnant and parenting women experiencing homelessness in Edmonton, and this Mother's Day, their support means your donation will be doubled.
Take pride in knowing your donations support mom's from across northern Alberta, both inside and outside the hospital walls. 
Learn more about the Pregnancy Pathways program here in our annual report.
Send a Mom You Love an Ecard
Our team has created customizable Mother's Day ecards that you can share from a safe physical distance. It's as easy as 1-2-3!
Visit royalalex.org/donate.
Tick the "Yes, this is an honour or memorial gift" and choose "In Honour of" from the Honour Gift Type dropdown menu and complete the required field forms. 
Tick the "Yes, I would like to send an ecard" box, choose from one of our two Mother's Day ecard designs, and personalize your subject line and message to the special mom in your life.
Here are the two options we have created and please see below for a sample of what the process will look like. 
Thank you for your support of our frontline healthcare providers during this critical time and Happy Mother's Day to all of the amazing moms from the Royal Alexandra Hospital Foundation!