Stories of Hope

"Deep Care at the Lois Hole Hospital for Women" - Dana from Fort McMurray, AB

Posted on: Jul 30, 2022

After a devastating loss, Dana Clarke chose to honour the memory of her son, Rider James King, with a donation to the perinatal bereavement program at the Lois Hole Hospital for Women.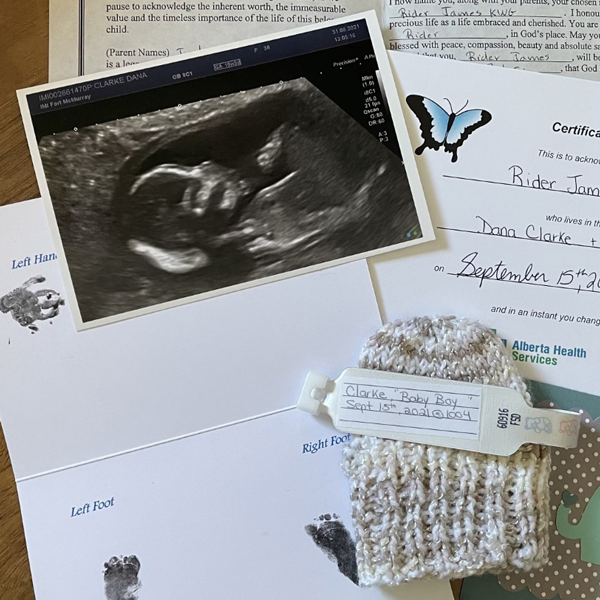 Dana Clarke arrived full of wonder and excitement for an ultrasound in her hometown of Fort McMurray, Alberta. Pregnant with her second child, and eager to know if her daughter would be soon joined by a brother or a sister, Dana had been anticipating the day for quite some time. 'It's a boy!' was the news, however, the day did not end as joyful as it began. 
The ultrasound revealed major anomalies, which led to Dana being referred to the Lois Hole Hospital for Women.
"Comfort and care were felt every step of the way," said Dana. "From the moment we entered the hospital, to the discussion with my physician and everyone in between, the hospital provided a supportive touch during a very scary time." 
The diagnosis for her son was trisomy 18. This rare genetic condition is caused by an extra chromosome. The spontaneously occurring condition develops well before birth and is a result of an abnormality in how cells divide and replicate from the earliest stages of pregnancy. 
Her path forward was one she knew would be marked with loss. The condition is fatal, with only 5% of babies making it to birth, and even those requiring major medical intervention. 
In September 2021, at 21 weeks term, Dana arrived at the Lois Hole Hospital to deliver her son. The nurses and care staff knew she was coming. Dana did not need to speak a word. Silence offered the compassion she needed during the very emotional arrival. 
"Everyone at the hospital was nothing short of amazing," said Dana. "I didn't have to do any work, other than deliver my son."
Dana was visited by spiritual care and the perinatal bereavement care providers who helped Dana recover mentally and spiritually and helped her son's memory live on. 
"The hospital represents for me the utmost levels of care, mental healthcare, and respect for the patients who rely on it," she said. "I am most grateful for the deep care that made all the difference in the world for my family." 
On September 15, 2022, in recognition of Rider James King's birthday, Dana made a gift to the hospital's perinatal bereavement program. A gift that will play a small role in keeping his memory alive and helping families like hers move through the hardest days of their lives in the future. 
Become a donor to the Lois Hole Hospital like Dana
Click here to read this story's original appearance in our 2022 Annual Gratitude Report