Our Hospital, Our Stories

Crescendo - Rising Up for Mental Health

Posted on: Jun 23, 2017

John Cameron, Royal Alexandra Hospital Foundation Director and President of John Cameron Entertainment, made his dream a reality through the inaugural Crescendo concert.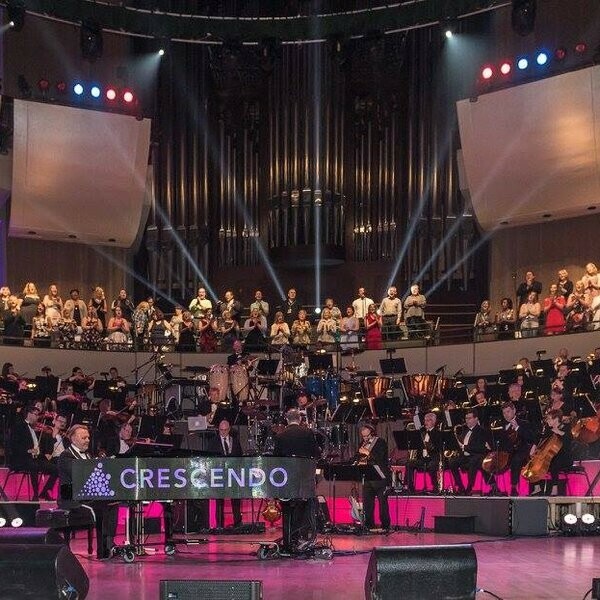 It was only six short months ago that John Cameron began to share his dream of the creation of an annual music concert event-an event with an ambitious goal to raise $5 million for mental health over the next five years. Earlier this June John's dream became a reality.
"Crescendo was unreal! I knew the performances would be a blast, but I had no idea how much it would make me feel."
The inaugural Crescendo event exceeded audience expectations in every way. Joined by Steven Page, former front man of the Bare Naked Ladies, Mark Masri, Candice Ryan, Hailey Benedict, and many more incredible performers from the John Cameron Entertainment ensemble singers, the night was an evening not soon to be forgotten. Those in attendance that evening are still raving about it weeks later. 
"Crescendo was not only a night of outstanding performances that had the audience up on its feet and dancing in the aisles, it was also a night of reflection and empowerment for so many. Our Foundation could not be more thankful to John Cameron and his incredible team for making this dream a reality. The funds, and perhaps more importantly the awareness, that was raised will have a positive impact on youth mental health care this year and for many more to come," stated Andrew Otway, President and CEO, Royal Alexandra Hospital Foundation.  
The music filled the concert hall and lifted audience spirits, while somber moments dotted the evening as members of the hundred voice choir shared their own personal struggles with mental health.  The evening proved what many already know; that everyone has a story to tell and that the conversation of mental health must come to the forefront.
"The talent, the set, the imagination – it was all top-notch. You can bet I'll be back next year."
"Crescendo was a meaningful gathering of the community to address head on the subject of mental health, which is less and less stigmatized the more we open conversations. Hearing Mr. Cameron, Councillor McKeen, and the many symphony and choir numbers reminded me that I am never alone. I hope this watershed event continues!"
The first year of Crescendo was undoubtedly an amazing triumph, and as its name suggests an evening of impact that will only grow from here.
To learn more about Crescendo, please visit http://crescendoyeg.com/.