Stories of Hope

Committed to Women's Health

Posted on: Dec 03, 2015

One of the best ways to describe the wide range of care provided at the Lois Hole Hospital for Women is all ages, all stages. And it is perhaps with the same sentiment that one could describe Shoppers Drug Mart's incredible support...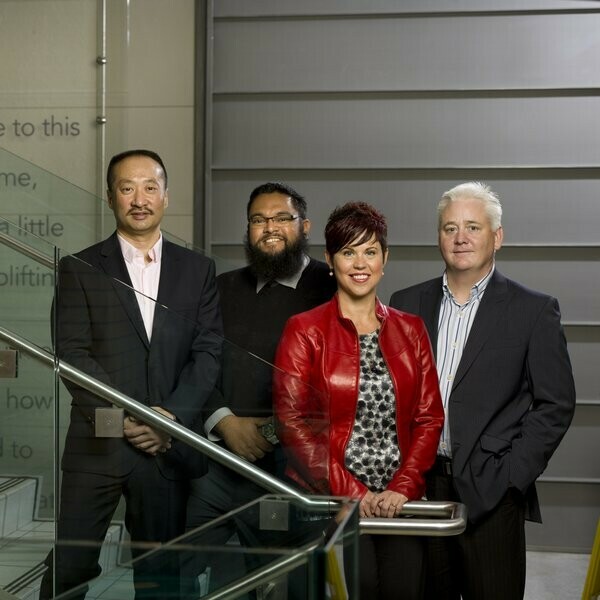 "It all started with the Tree of Life campaign and has grown from there," says Paul Readman, Pharmacist/Owner Shoppers Drug Mart Riverbend Square. "Our commitment to women's health is founded in the belief that when Canadian women are healthy and well, Canada is healthy and well, so the Lois Hole Hospital for Women is a natural fit and it was bound to be a successful partnership." And successful it has been. In 2012 the Tree of Life campaign raised over $113,000, enough to fund the creation of a second, highly specialized Colposcopy Screening and Treatment Room for the early detection of gynecological cancers. The following year in 2013, the group raised a record $150,000, this time supporting the campaign for a da Vinci Robotic Surgical System dedicated to women's cancer surgeries at the Lois Hole Hospital for Women.
"We're very grateful for Shoppers Drug Mart's support for our hospital," said former Executive Director Selikke Janes-Kelley, Executive Director of Women's Health at the Lois Hole Hospital for Women. "The Lois Hole Hospital for Women was built by community support and it continues to grow because of support from individuals and companies like Shoppers Drug Mart." And while Tree of Life carries on to be a success year after year, Shoppers Drug Mart has also broadened its support for the hospital with funding for initiatives like the Maternal Heart-Health program, a partnership between the Lois Hole Hospital for Women and the CK Hui Heart Centre that cares for mothers with pregnancy-related heart complications. 
"Our team has had the opportunity to tour the hospital and see first-hand the impact we're making. "I'm really proud of our staff and I'm also really grateful to our customers who get behind our fundraising efforts."
The company has even jumped in to assist with smaller, community health programs like You Go Girl – an informational event about women's pelvic floor health. "Shoppers Drug Mart sponsors these great gift bags that are always a highlight for the women attending You Go Girl," says Janes-Kelley.
"I think women really appreciate seeing a large company like Shoppers Drug Mart standing behind women's health." And while pelvic floor health is an area lacking awareness, so is mental health, and this past spring Shoppers Drug Mart stepped up to make a difference for the one in three women who will suffer from some type of mental illness in their lifetime. On May 31, 2014, 1300 people flocked to Gold Bar Park for the Shoppers Drug Mart Run for Women in support of women's mental health at the Lois Hole Hospital for Women. This fun and courageous event took place in cities all across Canada with this being its first year in Edmonton raising a record $65,000 – the highest in the country. "We have gotten to know the people at the foundation and at the hospital," says Readman. "We also know of some of our customers who have been patients at the Lois Hole Hospital and we're proud to tell them that this is a place we support. I guess we kind of feel part of the Lois Hole Hospital for Women family now and that just motivates us to do even more."