Our Hospital, Our Stories

Celebrating Partnership and Advancements in Prostate Health

Posted on: Jul 18, 2023

The Royal Alexandra Hospital Foundation, along with the University Hospital Foundation and Alberta Cancer Foundation, co-organized a special event to recognize the impact of donors for the Campaign for Prostate Health.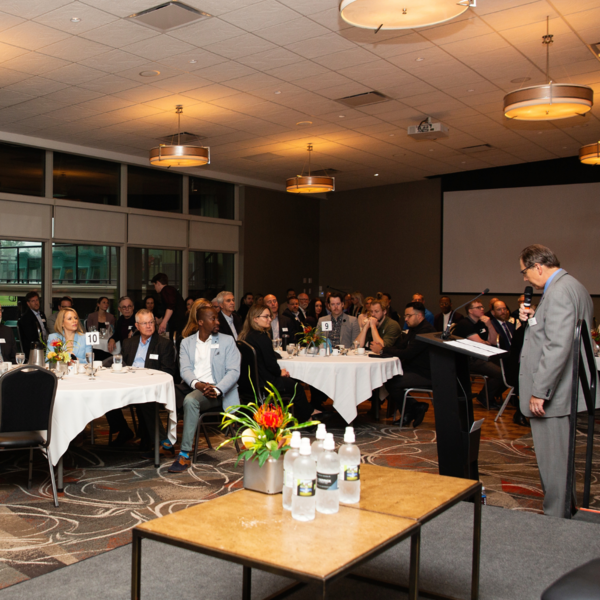 On June 15, 2023, the Royal Alexandra Hospital Foundation, University Hospital Foundation, and the Alberta Cancer Foundation teamed up to celebrate donors who have helped to advance men's health in Alberta and reflect on the advancements made thanks, in part, to those donors.
A celebratory—and educational—breakfast event served as an opportunity to thank those involved in the Campaign for Prostate Health, a partnership between the three organizations which launched in 2011. When the campaign concluded, it had surpassed its original fundraising goal of $26 million. Donors were instrumental in advancing diagnosis, care, and treatment at all three sites by helping to fund:
a consolidated centre of excellence for ambulatory and urology services in Edmonton;
establishment of a Rapid Access Prostate Health Clinic;
improved surgical technology in the treatment of prostate cancer;
establishment of two Prostate Health Research and Innovation Endowment Funds;
creation of the Frank and Carla Sojonky Chair in Prostate Cancer Research at the University of Alberta (currently held by Dr. Adam Kinnaird).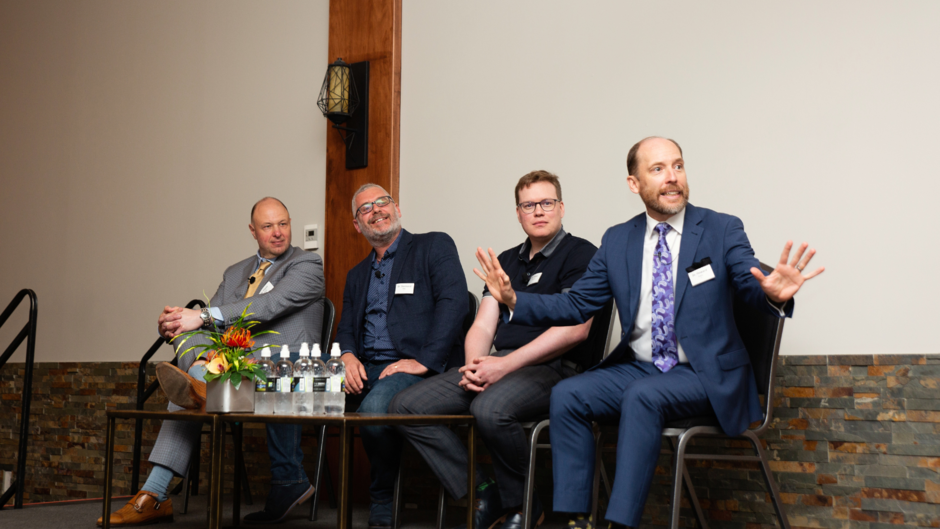 Those at the celebration heard from a panel of local doctors at the forefront of prostate cancer research and treatment, including Dr. Howard Evans, Dr. Adam Kinnaird, Dr. Desmond Pink, and Dr. Trevor Schuler. During a Q & A with audience members and emcee John Sexsmith, a former television anchor living with prostate cancer, the specialists shared insight into the progress made over the last decade — from technological advancements to new treatment mindsets.
We invite you to share in the experience of the Partnership in Prostate Health celebration by watching this video:
"We kind of forgot about the person and started thinking too much about the disease. And we've really shifted gears on that," remarked Dr. Howard Evans, a urologic surgeon and clinical professor who also practices at the Royal Alex Hospital. "Our focus is now that once you've finished treatment, now you've got to live and how are we going to help you live?" he added. "It's going in and taking out the problem and not harming everything else in the area."
Dr. Evans and fellow panelist Dr. Adam Kinnaird were quick to express appreciation and credit donors with being a driving force behind the many advancements in recent years.
"Philanthropy is the only reason why I was able to be hired in Edmonton to continue on a very rich tradition of research," said Dr. Kinnaird, a surgeon-scientist and the current Frank and Carla Sojonky Chair in Prostate Cancer Research. 
Dr. Kinnaird, who left Edmonton following his studies at the University of Alberta, returned thanks to a joint recruitment effort by the Royal Alexandra Hospital Foundation and University Hospital Foundation.
"Technology is changing all aspects of our life and medicine is no different, nor is surgery," explained Dr. Evans. "Edmonton is the number one centre for robotic surgery. And it's because of donors because it would not have happened without you."
The Royal Alexandra Hospital Foundation appreciates all donations made in the name of men's health and a healthier future for all.
A Partnership in Prostate Health