Stories of Hope

Celebrating Black Leaders in Healthcare: Nomagugu Baleni

Posted on: Feb 28, 2022

In honour of Black History Month, we are celebrating some of the Black leaders in Healthcare at the Royal Alexandra Hospital. Meet Nomagugu Baleni, the interim patient care manager for the women's operating room and the gynecological in-patient care unit.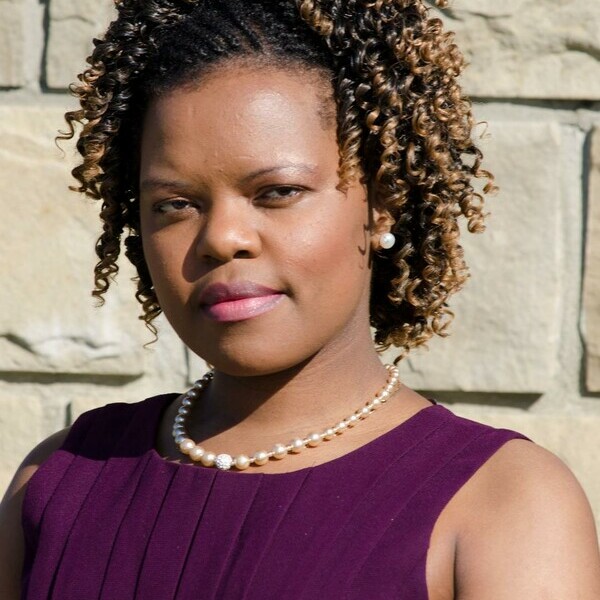 This year, one of the international themes for Black History Month this February is "Black Health and Wellness" with a focus on celebrating the contributions and breakthroughs of Black professionals in the field of healthcare. 
The Royal Alexandra Hospital is one of the largest hospitals in Western Canada, serving an extremely diverse population of people, and with staff from all over the world. It is important to us at the Foundation to amplify and celebrate the different perspectives and voices that add to the richness of the hospital we support. While we aim to celebrate equity, diversity, and inclusion every day, this month we are proud to showcase some of the Black healthcare leaders at the Royal Alexandra Hospital. 
Nomagugu Baleni is currently the interim patient care manager for the women's operating room and the gynecological in-patient care unit at the Lois Hole Hospital for Women. She has worked at the Royal Alex for fifteen years in a variety of leadership and managerial roles, primarily in the realm of women's health, with a brief stint working for the emergency department during the pandemic. 
Outside of work, Nomagugu is passionate about community engagement and is a dedicated volunteer, serving on many committees and boards, from the provincial Ministry of Health's Health Professions Advisory Council to GEF Seniors' Housing – a charitable organization that positively influences seniors' quality of life. "I really try to be engaged and contribute to society outside of work," she said.  
"I went into nursing mostly because I wanted to help people and be able to make a change in people's lives. When people are coming into the hospital, they are doing so in their most vulnerable states." - Nomagugu Baleni
A HISTORY OF HEALTHCARE
Nomagugu's passion for healthcare started with her grandmother, who was an obstetric nurse. 
"To see the role a nurse plays in comforting, consoling, and providing information was quite inspiring to me. I wanted to contribute to making a difference in people's lives. Everyday I get to see growing families, and just being there to support, coach and guide has been absolutely rewarding," she said.
After completing university in Quebec to become a nurse, Nomagugu's sister, who is also an RN, encouraged her to move to Edmonton for the opportunities. "My sister was working here, and said to me, 'You know what? If you want a job working with women's medicine, this is the place to be.'" 
ADVANCEMENTS OF ALL KINDS
Over her many years and various leadership roles at the hospital, Nomagugu has witnessed innumerable technological and social advancements at the Royal Alex, improving the quality of care our patients receive – from the da Vinci Robot revolutionizing the way traditionally invasive surgeries are delivered to patients at the Lois Hole Hospital For Women, to advancements in heart health and pregnancy. In her delivery of care, it is of the utmost importance to Nomagugu to make sure every single person at the hospital – whether they are staff, patients, or visitors – feels represented, comfortable and welcome. 
"The interface between technology and healthcare can make a huge difference in someone's life.I think we can get into a space where there is a disconnect between technology and humanity," she says. "How can you be that person who can demedicalize what a patient is going through and support them during their journey ?"
Two of the programs Nomagugu is the proudest of are the cord blood bank in partnership Canadian Blood Services, and the advancements in translation services for patients. 
Launched in 2015 by Canadian Blood Services to collect stem cell samples that reflect Canada's diverse population, the Lois Hole Hospital for Women was one of the first sites in Canada to participate in the cord blood bank program. Placental and umbilical cord blood samples are rich in stem cells that can be used to treat almost 100 diseases, including cancers like leukemia and lymphoma. The cord bank was developed with the aim of helping people from a variety of ethnic backgrounds have a better chance at finding donor matches – which are significantly lower for Black, Indigenous and South Asian Canadians. 
The Lois Hole Hospital for Women also recently invested in iPads to assist with advanced translations services. "We used to have interpretive services over the phone and in-person for ASL, but in a real-time medical situation, an interpreter can be hours away and that's not always realistic in emergency situations,"  said Nomagugu. "Those gaps in services have lessened thanks to this technology." 
REPRESENTATION MATTERS
Regarding Black History Month and the topic of Black Health and Wellness, Nomagugu stressed the importance of creating safe spaces for people to feel included. 
"Creating a safe environment helps people get the care they deserve," she said. "This will help us with preventative medicine and benefit mental health in the long run. When we talk about cultural representation in healthcare, I think it's quite important to see different faces and hear different voices that represent the community we serve." 
"Representation matters at all tables. Do your staff feel safe at work? Do they feel reflected in the culture? Do they feel like their voices are being heard? Do families feel safe in our facility? Do patients feel comfortable? I just want everyone, whether it's patients, staff or volunteers at the hospital to feel safe and that they belong." 
"The hospital is so diverse," she continued. "We see different people every day. Our staff are also extremely diverse at work. People are from all over the world. Even just beginning conversations around Black History Month at the hospital is a great start – it encourages us to stop and say, 'Hey, this is important, let's reflect on this.'" 
Thank you so much to Nomagugu for taking the time to sit down and chat with us about this important topic, and for all her hard work at the Lois Hole Hospital for Women as such a dedicated leader, mentor, and caregiver.