Our Hospital, Our Stories

Celebrating Black Leaders in Healthcare: Dr. Deng Mapiour

Posted on: Feb 16, 2022

In honour of Black History Month, we are celebrating some of the Black leaders in Healthcare at the Royal Alexandra Hospital. Meet Dr. Deng Mapiour, a practicing general surgeon covering trauma at the Royal Alex.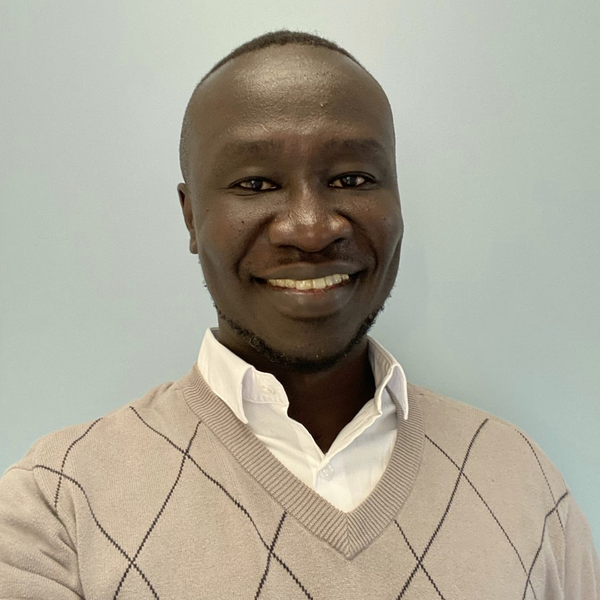 This year, one of the international themes for Black History Month is "Black Health and Wellness" with a focus on celebrating the contributions and breakthroughs of Black professionals in the field of healthcare. 
The Royal Alexandra Hospital is one of the largest hospitals in Western Canada, serving an extremely diverse population of people, and with staff from all over the world. It is important to us at the Foundation to amplify and celebrate the different perspectives and voices that add to the richness of the hospital we support. While we aim to celebrate equity, diversity, and inclusion every day, this month we are proud to showcase some of the Black healthcare leaders at the Royal Alexandra Hospital. 
Dr. Deng Mapiour is currently a practicing general surgeon covering trauma at the Royal Alex and is a general surgeon at the Fort Saskatchewan Community Hospital. Originally from Sudan, Dr. Mapiour arrived in Canada as a refugee at age 17 and moved to Saskatoon with his family, where he completed his BSc, medical degree, and surgical training at University of Saskatchewan. His intention was to only live in Edmonton for a year while completing a fellowship in Acute Care Surgery and Trauma at the University of Alberta Hospital and then return to Saskatoon. 
Six years later, Edmonton is one of the places Dr. Mapiour now calls home. 
"One of the biggest things that drew me to The Alex was the dedicated trauma service and the trauma system," he said. "We received a national award of distinction for our system, which isn't something everyone knows about. It's something to be proud of; there's a lot of tremendous work that went on behind the scenes to make that happen. The environment is very collegial at the Royal Alex, and a lot of research being conducted makes me very excited to be there."
Dr. Mapiour decided he wanted to become a doctor based on experiences from his childhood. 
"I was born in South Sudan and raised in Khartoum," he said. "Growing up you see a lot of people struggling. Accessing healthcare was out of reach for many people. I thought to myself, you know what, when I grow up, I want to see if I can get into medicine to make a bit of a difference—a bit of a dent. Try to be part of the solution." 
Outside of work, Dr. Mapiour tries to get involved with volunteering and mentorship as much as possible. He actively volunteers with the Black Medical Students Association at the University of Alberta and with the South Sudanese community in Edmonton. "I am passionate about getting involved with the youth and mentoring them so they know that if they put in the time and the effort, they can achieve anything they want to achieve. Some of the youth in the Black community struggle with not even knowing they can get into certain professions," he explained. "I want them to know there is no reason they can't do great things. And that's the message I am trying to drive." 
 "Black Wellness refers to many things—physical health, mental health, economic health, and how all of these things intertwine." - Dr. Mapiour


Building on this, Dr. Mapiour noted the importance of talking about Black health and wellness, as different communities have different healthcare needs and supports. 
"There are health issues pertinent to Black communities across Canada, especially mental health," he said. "Talking about mental health can be a difficult subject to tease out with people, especially since access to appropriate resources isn't always available." He believes discussions like this—such as celebrating Black History Month, making an effort to amplify Black voices—create awareness both in and out of the community and have the potential to connect people with the resources required to succeed. 
Thank you so much Dr. Mapiour for sharing your story and your perspective with us. We are beyond grateful to have you as a member of the Royal Alexandra Hospital community, and so appreciative of your dedication to mentorship and making a difference. Your passion is truly inspiring.