Stories of Hope

Mother's Day 2021: "Teacher by day, ER nurse by night, and full-time mother of four"

Posted on: May 08, 2021

Lockdown life takes its toll on even the most experienced of homeschoolers and composed triage nurses. Here's how Amanda copes. Based on a submission to the AWHF.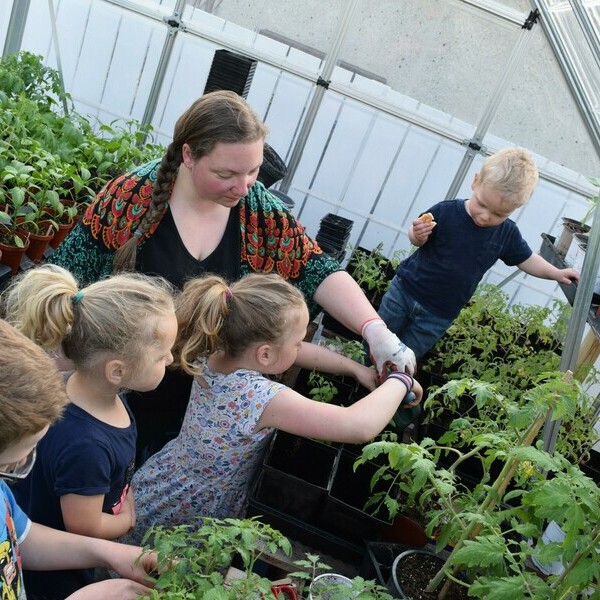 The following was written based on a submission to and interview with the AWHF, and originally published here on the AWHF website.
This story is about Amanda Falk from Edmonton.


---
Mother's Day 2021: "Teacher by day, ER nurse by night, and full-time mother of four"
The days begin early. Always, always, always too early.
After a hectic night in a bustling emergency department, Amanda Falk, a registered nurse, lies in bed, turning the day over in her mind, waiting for exhaustion to whisk it away.
When she blinks again five hours later, she has just enough time for a little quiet reading before her four children wake up and her second job as home school teacher begins.
Like most working moms, Amanda was already maintaining a daily balancing act before microbe-filled droplets started wreaking havoc in malls, nursing homes and choir lofts. The onset of COVID-19 has meant more than handwashing and masking—it's changed nearly every interaction.
"Everybody seems to be very high anxiety," said Amanda, 37. "People are quick to anger, and even between staff sometimes, it's tense. Everybody seems to be on the edge."
Amanda values quiet and order; she spends her time fighting entropy and clutter. There are meals to cook, laundry to fold, rabbits to feed, lessons to plan. Then she's off to the hospital to start the cycle again.
She's not alone. Lockdown life has disproportionately affected women, many of whom are already tasked with the heavy lifting of child rearing and domestic duties. The global pandemic has added disruptions to employment, child care and school to that list.
In a report published this past March, Royal Bank of Canada economists noted that while most of the jobs lost in the early days of the pandemic had returned, nearly half a million of those Canadian women who had lost jobs since the start of the pandemic hadn't been able to re-enter the workforce by the end of the year either because their job disappeared altogether or because the new realities no longer made working feasible.
In the last year, 12 times as many mothers left their jobs to care for toddlers or school-aged children as fathers, the same study found.
School is one of the biggest stressors of the pandemic, a cascade of potential chaos ready to be unleashed on homes at any time. Whenever a child tests positive, entire families are forced to isolate themselves in already stressed and stretched homes. And when a wave hits, as it has in recent weeks, there is always the possibility of a sudden, general switch to online learning.
Moms used to have to "lean in" to get ahead. Today, if they're lucky enough to still have a job, they have to work over a cacophony of screams and chatter.
Both Amanda and her husband, Ron, are fortunate to have skilled work in the health care sector. Even more, they'd already built a lifestyle that shielded them from the shock of the pandemic.
The couple work opposite shifts at the Northeast Community Health Centre, a small but bustling hospital that serves many of Edmonton's poorest patients. In the mornings, Ron heads off to his job as a lab technician. In the late afternoon, Amanda heads through the ER doors.
While it makes childcare easier, families who juggle shift work typically do so at the expense of time together. Years ago, the Falks settled on homeschooling instead. They keep extracurriculars to a minimum, and spurn carpooling to soccer and hockey. Family relationships are the biggest priority.
"The fact that I work evenings, I would never see my kids for days on end if I dropped them off at school," said Amanda. "I didn't want that for my kids, and I didn't want that for myself either. I wanted to be there, seeing them having successes."
With kids aged 10, 8, 4 and just under 2, Amanda will have plenty of lesson planning in her future. She relies on a unit study curriculum called Gather 'Round, which focuses on a single subject, allowing her to teach children of different ages. This month, her kids are learning about inventors and their innovations.
In pre-pandemic days, lessons could be supplemented with trips to the science centre or Fort Edmonton Park. Now she's got to conjure Thomas Edison without setting the house ablaze.
"There's nowhere to go except to the park," Amanda said. "We can't leave our house. It's constantly a mess. Just doing science experiments, for example, creates more mess and anxiety."
There are other challenges. Her two boys have both struggled with apraxia, an uncommon neurological disorder that makes it difficult to speak. Through intensive speech therapy, her older son has made progress. But her toddler still isn't talking.
It may be a ton of work, but Amanda hasn't had to worry about notifications from school. She doesn't need to hole up in the basement for a Zoom call. She hasn't had to adjust to a suddenly full house. It has always been full.
Amanda was still on maternity leave when the first wave of COVID-19 hit, leaving Canadians with dread, exhaustion and feelings of isolation.
By the time Amanda returned to work, caseloads were beginning to drop off and a semblance of normalcy seemed to be on the horizon. Emergency departments are adaptable by design, so they quickly incorporated the donning and doffing of gowns, masks and goggles. 
As she assesses patients at the triage desk, Amanda observes people as they cope with the push and pull of withdrawal and engagement. At first, patients were reluctant to even come to the hospital, instead coming in when they were far sicker and finally couldn't put it off any more. As the pandemic has worn on, feelings of togetherness have dissipated, leaving behind combativeness and frustration. Tempers are short. Anxiety is high.
Once again, it's women and moms who bear the brunt. A recent study of Alberta moms in The Lancet Psychiatry has shown dramatic increases in levels of anxiety and depression in young families.
The study made use of a long-term research project that has been going since 2008, following a cohort of then-pregnant Calgary women. Of the 1,300 women who participated in the latest iterations, symptoms of depression abruptly jumped from 19 per cent to 35 per cent in 2020. The results were significantly worse for the families who faced income disruptions.
Perhaps unsurprisingly, medical workers fared better than their peers, with smaller increases in symptoms of depression than their peers. They've had little choice.
Waiting rooms can create a sensation of motionlessness. At the start and end of each shift, bleary-eyed family members huddle around each other.
"You start out with a dozen in the waiting room, and you leave and there's still a dozen in the waiting room," Amanda said. "A lot of times, you don't feel like you accomplish anything."
The waiting room can also be where the worst memories are made. Amanda watches out for moments of grace in those terrible hours. She hands out juice boxes. She holds people's hands and makes eye contact. She tries to bestow dignity to the homeless, treating them like anyone else.
Work has a funny way of acting as a break from the stresses of home life, just like home life can offer a break from the stresses of work.
"I can be there for people when they're not at their best," Amanda said. "To be there for those people and love them and serve them, that's what gives me joy."
And when she can't cope, she prays to Jesus to help her deal with her innate anxiety. Not everyone shares her faith, but Amanda says she hopes people can find their own peace. Take a deep breath. Turn around and take a moment. Stay calm.
The global pandemic has disrupted supply chains and upended political and economic orthodoxies, all while altering the way people think about home and work. That's not entirely terrible, Amanda suggests.
"I think a lot of people didn't initially know how to deal with their family members," said Amanda. "All of a sudden, all of these distractions were taken away."
She's not downplaying the destruction and loss. Amanda thinks about the hidden spectre of domestic abuse, women who can't leave the space they share with someone statistically most likely to end their life.
But for Amanda, the pandemic has reinforced her belief that, by cutting back on outside distractions, we can carve out more space for meaningful relationships.
It extends to the food the Falks eat from the backyard garden they've terraformed, not far from Edmonton's sprawling river valley. Thanks to a hutch filled with Champagne d'argent and rex rabbits, they haven't bought chicken since January 2019. They've got pear and apricot and cherry trees. In the early spring, the greenhouse is packed with mustard greens, tomatoes and peppers.
"It's a 100-foot challenge, instead of the 100-mile diet," Amanda said. "It changes your mindset, because you've raised this animal and you're thankful it could feed you." 
One of the surprise blessings of the pandemic has been Mother's Day, typically a hectic day bouncing between family gatherings. Last year, nobody went anywhere. She doesn't even remember what she did. It was a relief.
This Mother's Day brings a glimmer of hope amidst the crisis. Caseloads are up, but so are vaccination rates. She's had both her shots and her husband has had his first.
The world has changed in many ways, but for Amanda, most things have remained consistent. She's up too late and tomorrow will begin too early. Always too early.
---
If you would also like to share your story, please visit here. 
It is the AWHF's mission to foster equity in women's health, close gaps that exist in research today, and connect pathways from lab to life. Show your support for women like Amanda from across Alberta and beyond with a gift to the AWHF.