Our Hospital, Our Stories

Averton Homes Delivers Christmas Kindness to Patients in the Royal Alex Emergency Department

Posted on: Dec 21, 2016

Kindness and compassion can be found in a little red gift bag.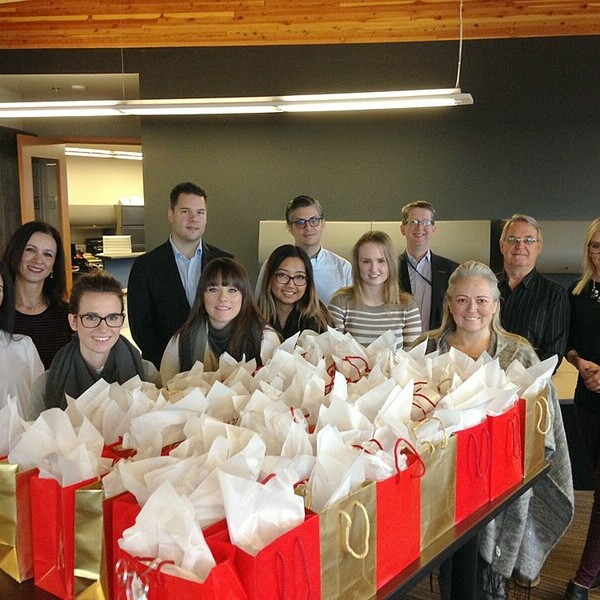 When brothers and business partners Paul and Matthew Lanni considered how they and their staff at Averton Homes might continue to make a difference in the lives of others this holiday season, they knew the answer would include the Royal Alexandra Hospital.
Averton Homes has been a strong supporter of the Royal Alexandra Hospital, primarily in the area of women's health, donating towards the purchase of the da Vinci Robotic Surgical System at the Lois Hole Hospital for Women. Staff at Averton Homes also volunteers their time every spring for a day of weeding and cleaning in the Ted and Lois Hole Rooftop Healing Garden, an effort that is greatly appreciated by the entire Royal Alex Hospital.
So it came as no surprise when Paul contacted the Royal Alexandra Hospital Foundation to say the Averton team had a new idea to support the Royal Alex. Staff prepared dozens of gift bags for distribution to residents of Edmonton's inner city population who arrive in the emergency department during the Christmas season and into the New Year.
"Our team wanted to have an extra impact this holiday season and this cause resonates with us," said Averton President Paul Lanni. "We're a home builder, in the business of creating beautiful places in which people live their lives well. Not everyone has a home, and we know this is an especially difficult time for many."
Averton employees reached out to some partner companies to secure products: Jacek Chocolates, Four Points by Sheraton Gateway, Wild Prairie Soap Company and Signature Orthodontics all contributed to the gift bags, ensuring dental supplies, toiletries, and sweet treats were all part of the package, in addition to mittens and socks.
Lisa Sorenson, Patient Care Manager in the Emergency Department at the Royal Alexandra Hospital, was especially touched by the kind gesture by Averton.
"For our homeless population who comes to the Emergency Department during these cold nights, these gift bags say, 'someone cares about me' and this is so incredibly important."
Sorenson also pointed out that the gift bags are meaningful because they give Royal Alex staff another way to provide comfort to patients. "We want to provide both care and caring and these gift bags help us do so in a way that is both practical and incredibly heartfelt."