Stories With Heart

Art from the Heart

Posted on: Feb 24, 2022

Thanks to a heartfelt donation from a thoughtful donor, The CK Hui Heart Centre will soon be home to a piece of art by James Goldcrown - just in time for Heart Month in Canada.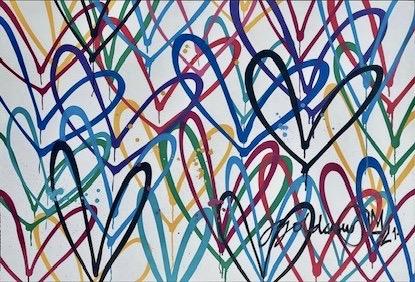 Known for his signature "bleeding hearts" that adorn walls in technicolour all over the globe, James Goldcrown's eye-catching murals make him one of the world's most recognizable contemporary artists. With over 50,000 followers on Instagram and collaborations with brands like Skechers, Henri Bendel, Tom's Shoes and more, James Goldcrown's star is only rising. And, thanks to the generosity of a donor, one of his pieces now has a home in Edmonton – at the CK Hui Heart Centre. 
As a hobby, Daniel Yeung likes to collect art and curate shows for artists he really admires. "I just love art – I don't have any formal training as a curator, collector or artist," he said. 
A few years ago, Daniel invited James Goldcrown to take part in a group show he organized in Shanghai, where the two struck up a friendship. Since that time, Daniel has purchased several pieces, both to support his friend, and because he enjoyed the way Goldcrown's art made him feel – joy. 
And joy is what Daniel wants patients, visitors, and staff at the CK Hui to feel when they see James Goldcrown's work. "With the colourful hearts, I thought the piece would fit the theme at the CK Hui Heart centre. It's also very cheerful and bright." 
Beyond fitting the theme perfectly, Daniel's donation to CK Hui goes deeper than aesthetics. "To me, it's very meaningful to have a heart centre," he explained. "The heart centre has done a lot of great things. I know many people who have had life-changing experiences thanks to the CK Hui. We are very lucky to have a facility like this in Edmonton." 
"Art can bring a lot of happiness to people who spend a lot of time at the hospital. I hope the piece will lighten the atmosphere, help people have hope, and help remind the staff who work at the CK Hui they have saved many hearts."
The piece by James Goldcrown will likely hang on the wall in the Robbins Pavilion, for everyone at the hospital to enjoy. 
Thank you so much to Daniel Yeung for his truly thoughtful donation! We are sure your gift will delight everyone who has the chance to see it. You can learn more about James Goldcrown here.
Your support could make the difference. Please consider a gift.
PLEASE CONSIDER A DONATION TO THE CK HUI HEART CENTRE TO HELP MORE PEOPLE EXPERIENCING STRUGGLES WITH HEART HEALTH