Stories of Hope

Alberta Blue Cross: A valued partner supporting health and wellness for women in Alberta

Posted on: Mar 07, 2022

Reflecting on the community leadership of Alberta Blue Cross, and looking ahead to the future of the AWHF with a dedicated partner.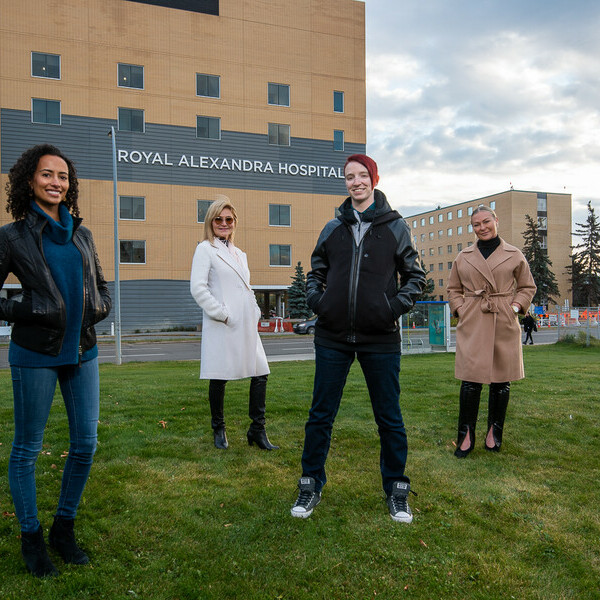 The Alberta Women's Health Foundation (AWHF) officially launched last year on International Women's Day, March 8th, 2021. Nearly a year ago to the day.
As a fundraising and women's health research advocacy brand, the AWHF has been fortunate to earn many new supporters and advocates along its journey, but perhaps none more so than Alberta Blue Cross.
Alberta Blue Cross is not just a partner, but an organization whose DNA is intertwined with that of the AWHF.
In fact, Alberta Blue Cross was the very first organization to commit to a partnership with the newly established AWHF, earning the title, 'launch partner.'
Dianne Balon,who has been with Alberta Blue Cross for 34 years and currently serves as Vice President, Government, was kind enough to share her perspective on the relationship, and shine a light on why her organization was excited to support the work of the Alberta Women's Health Foundation
A CULTURE BUILT AROUND WELLNESS FOR ALBERTANS
Dianne points to Alberta Blue Cross' mission and values.
"We believe that wellness provides the foundation for Albertans to live their best life. By finding ways to engage Albertans in learnings about health and wellness and provide proactive knowledge and resources, we are empowering them to go out and do just that," she said.
When it comes to partnerships, "Alberta Blue Cross looks to partner with organizations that are creating a meaningful difference in the wellness of Albertans. We aim to be a partner in wellness for Albertans, to help them overcome obstacles, and the Royal Alexandra Hospital Foundation had done the work to understand the needs of Albertans and the gaps around women's health."
That's where the AWHF draws its origin, and where Alberta Blue Cross shares the vision:
"We could see the gaps that existed in women's health research and see how important it was to bring awareness to these gaps. By getting the word out and educating all Albertans, we hope to bring equity into Alberta's women's health conversation. We want women to feel empowered to advocate for their health and challenge what they are being told when it isn't accurate."
- Dianne Balon, Alberta Blue Cross
To that end, the information the AWHF supplies is crucial for Albertans, and Alberta Blue Cross recognized that they could assist in providing a wide platform to share this information with a broader audience of Albertans.
But Alberta Blue Cross' support for initiatives such as these predates the creation of the Alberta Women's Health Foundation.

A LONGTIME PARTNER IN HEALTH AND WELLNESS
Alberta Blue Cross first became involved with the Royal Alexandra Hospital Foundation as a sponsor of the Harvest Celebration—an annual fundraiser gala held for the Lois Hole Hospital for Women and the continued advancement of care in women's health.
Dianne herself had a "collision of work and personal life" and found herself nominated for a position on the board of the Royal Alexandra Hospital Foundation. As someone who had her own challenging experiences with health and the healthcare system (including a condition loosely referred to as 'a woman's disease') along with a burning passion to make the world a better place for her daughters, she was eager to accept. The Royal Alexandra Hospital Foundation counts itself as extremely fortunate to have Dianne's counsel so close at hand.
In recent years, Alberta Blue Cross became involved in a wider variety of efforts at the foundation, including such initiatives as the What The Health lecture series and funding for the Access 24/7 Mental Health and Addiction Services centre.
As Dianne explained, the Alberta Blue Cross team started talking about how to bring it all together to make the greatest impact. They felt that What The Health had the latest research and knowledge that wasn't always available to people, and they felt obligated to help get that information out.
"People aren't always comfortable talking about things like breast health, sexual health, pelvic floor health," she explained. "What a forum to make these topics accessible and interesting for people. Why not spend an evening to listen in?"
- Dianne Balon, on What The Health
The What The Health series is a project that Alberta Blue Cross wants to amplify as much as possible, and are often discussing ways to scale it up in terms of size and access because, as Dianne stated, "Health can be so overwhelming."
When it comes to Access 24/7, Dianne shared Alberta Blue Cross' perspective and the reasoning behind their support.
"Access 24/7 makes mental health care accessible to Albertans regardless of the time of day.  We got involved with Access 24/7 because we could see how important accessible mental health supports were for Albertans and how much our community could benefit from on-demand support."
Alberta Blue Cross helped by purchasing comfortable soft seating, working with the 24/7 Access team to come up with words of hope that were incorporated into the décor, and generally ensuring the environment was set up to be as welcoming as possible.
"We knew how daunting and even traumatic a waiting room can be," she added. "How important is that to an individual, to have that comforting place and environment? We may not be able to provide the clinical experts, but can provide a more comforting, personal experience."
- Dianne Balon
All of this thinking and support extended to Alberta Blue Cross' support of the Alberta Women's Health Foundation.

A BETTER, MORE BALANCED FUTURE FOR ALBERTANS
"There's no time like the present to stand up and advocate for [women's] health," Dianne asserted, pointing to the imbalances that exist in women's health, and those that have been made worse by the pandemic. Many observations like these—and more—are detailed and corroborated in the AWHF's recent thought leadership report, Finding the Fractures: The Pandemic, Women's Health Disparities, and the Path to Equity. The report was published this November following an Alberta-wide survey of over 1,600 people on their own thoughts and experiences.
From Harvest Celebration and What The Health to this first-ever thought leadership report from the AWHF, Alberta Blue Cross has amplified the voices and experiences of women—and is eager for more opportunities to push this agenda forward.
Dianne believes that that "Just not enough dollars are invested into research that impacts half the population," meaning women. "I think it's an oversight that is historically based, but now is the time to actively work toward balance—and achieve equity in research."
With the AWHF's one-year anniversary rapidly approaching—this International Women's Day—Alberta Blue Cross recognizes how important it is to mark this major milestone, and is excited for what the future holds for the AWHF.
Alberta Blue Cross' hope is that the AWHF "continues to grow its success in raising awareness of the historic gaps that exist in funding research and the disparities in health outcomes that women experience as a result."
As Dianne said, "Someone has to consistently make the choice to get up and drive, because it's not always easy. We have the most skilled and dedicated clinical minds, researchers and volunteers, and I believe we can do that."
And of course, that is exactly what the Alberta Women's Health Foundation plans to do.
"With the momentum we've built with such a strong partner, we are keen to continue to grow this role as a conduit for women's health that Dianne is describing. We are so thankful for Alberta Blue Cross, for Dianne personally, and for all those who are supporting the big lift that is required in women's health. We are also eager to celebrate International Women's Day with you, and share the important initiatives we have coming soon–very soon."
- Sharlene Rutherford, President and CEO of the Royal Alexandra Hospital Foundation and AWHF
We encourage you to check back with us on International Women's Day, as we plan to amplify more voices rallying the community to our cause of advancing women's health and women's health research, and take major strides on the path to equity.

Please join us in sharing our gratitude for Alberta Blue Cross, for everything they've done to support the health and wellness of all Albertans, to make healthcare more equitable and accessible for all, and for their dedication to the Alberta Women's Health Foundation.
A special thank you as well to Dianne; a true champion for women's health whose passion, openness, and guidance, have been instrumental in guiding the Royal Alexandra Hospital Foundation and Alberta Women's Health Foundation—and countless Albertans—to a brighter, healthier future.