Stories With Vision

A Wonderful Donation

Posted on: Oct 21, 2016

The Royal Alexandra Hospital Foundation is always pleased to check the mail, since it usually contains donations from near and far, and from people of all walks of life. We were particularly pleased to receive a donation from a generous and talented...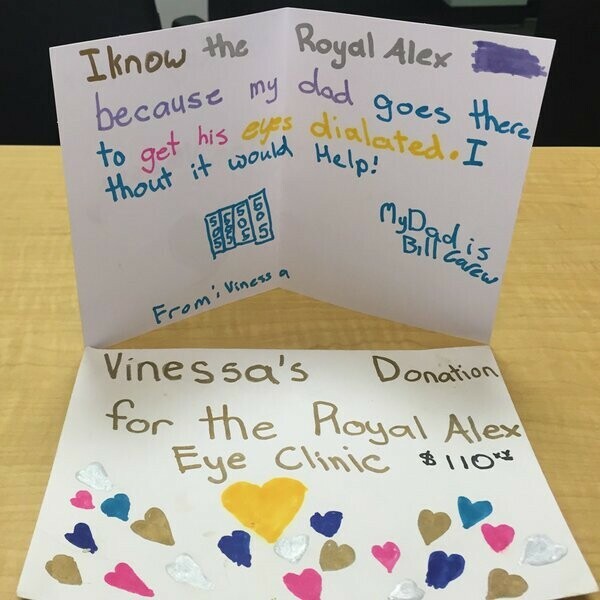 Vinessa's father Bill Carew has been receiving expert eye care at the Eye Institute of Alberta for many years. Bill has uveitis, a disease that causes inflammation of the eyes. He was also diagnosed with glaucoma, leading to corrective surgery four years ago. He continues to visit the Eye Institute of Alberta for follow up treatment and monitoring of his conditions.
Vinessa sometimes accompanies her dad to his appointments, so she knows the Eye Institute is a busy and important place. She decided that she wanted to show her appreciation to the Eye Institute with a donation. Showing great discipline for a 10-year old, Vinessa patiently saved her allowance and did without some of her favourite things for many months. Eventually, she saved up $110 and dutifully sent it to the Royal Alexandra Hospital Foundation. As if the generous donation wasn't enough, Vinessa also included a beautiful, hand-drawn letter and card.
Vinessa's beautiful, hand-drawn card that came with her generous donation.
Thank you Vinessa for keeping the Eye Institute of Alberta in focus! Your dad and the 45,000 other patients the Eye Institute treats every year are grateful for the support.
---
The Eye Institute of Alberta provides expert eye care for children, adults, and seniors. Designed to treat 12,000 patients a year, the Eye Institute of Alberta now provides care for more than 45,000 patients each year. This volume means challenges for both patients and staff. To ensure the very best patient experience at the Royal Alex, the Eye Institute of Alberta requires significant renovations. The Royal Alexandra Hospital Foundation is dedicated to raising $4 million to help the Eye Institute of Alberta to continue providing the very best in vision and eye care.
To learn more and support the Eye Institute of Alberta, click here