Stories of Hope

A letter from Kelly about her mom

Posted on: May 11, 2021

A letter from Kelly Opper about her mother, Wendy, whose healthcare journey highlights the gaps we need to address in women's health and women's health research.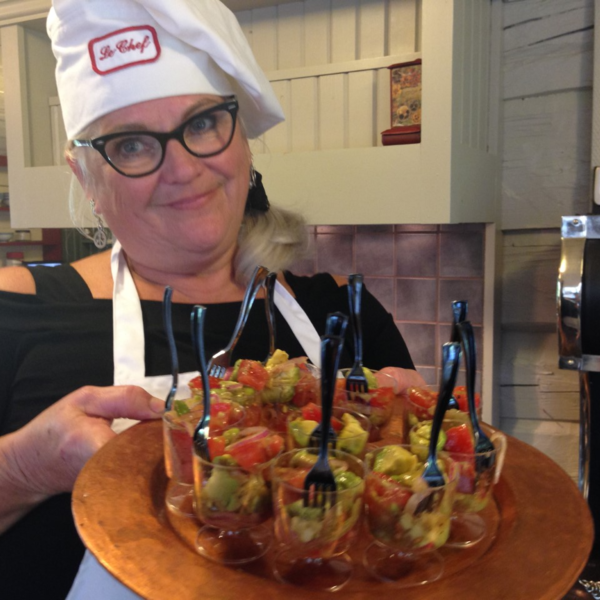 Dear reader,
My name is Kelly, and I'd like to tell you about my mom, Wendy. Wendy was born in Calmar, Alberta, a small town Alberta girl with a big love of life. She raised my three sisters and me up north in the Yukon and instilled in us values of loving the land, life and family. We even lived for a time in a renovated school bus while our dream home was being built.
Wendy was a mother and friend who loved to cook and entertain, and was always searching for adventure, sun, and recipes. As a grandmother of eleven (and great-grandmother of two!), she never missed a special moment—dance recital, hockey game, graduation, you name it. She also loved creating special moments. For her 65th birthday, she threw herself a huge party complete with fireworks and a Mardi Gras-themed parade. 
At 66, Wendy died from a massive cardiac arrest—and it should have been anticipated.
My mom suffered from heart issues for more than fifteen years, similar to her father and sister.
At one point about ten years ago, she believed she had COPD as she was having trouble breathing. She went to the CK Hui Heart Centre for an angiogram and ended up needing three emergency stints inserted.
More recently, when she again began experiencing shortness of breath, chest pain and blood pressure variations, a doctor at the nearest hospital told her to go home, put her feet up and drink less coffee. Despite an overnight stay, they 'didn't find anything.'
She was told bluntly that it was likely just anxiety or stress. 
Her symptoms continued for weeks, and her family doctor promised to schedule a follow-up after an upcoming vacation. Trusting their medical opinions over her own (and her family's), she did not seek additional treatment, and made the decision to go on the trip.
It was 36 hours after returning—which happened to be the evening before her next appointment—that she died and lost her chance to live life to the fullest.
Sadly, the system failed her.
Her symptoms were overlooked, her family history seemingly ignored, and she did not know how to properly advocate for herself.
Wendy was a giver, and the epitome of a mother. She donated a kidney to her brother, she gave blood, and she even signed up to be an organ donor. We want to give back to her and on her behalf, and any woman that can be saved—either though research, learning to advocate for themselves, given a voice—would mean so much to us.  
Will you be a giver today and help close the gaps that exist in women's health?
The Royal Alexandra Hospital Foundation recently launched the Alberta Women's Health Foundation (AWHF), a new initiative focused solely on closing the gaps that exist today in women's health and women's health research. Your help is essential.
On behalf of my mother and my sisters, I am writing to you today to ask that you join me as a supporter of the AWHF as they tackle the long-standing deficits in women's health and research. Your support will mean funding for more than 140 researchers whose research projects focus specifically on women's health.
With Mother's Day now behind us, let's not forget that support is still needed to change the future for women like my mother, women like you, women like those you love dearly. I was shocked to learn that less than eight per cent of national funding supports women's health research, yet women represent nearly half of our province's population. The gap has led to misdiagnoses because, in the medical system, women are often treated as 'smaller men', and that is obviously not true.
The AWHF is asking us to refocus the research by shifting our attention, money and energy from women's appearances to women's health, and I could not agree more.
Your gift will allow the AWHF to bring research from the lab to healthcare settings across the province. The research you will help make possible will benefit urban and rural Albertan women of all ages and include projects dedicated to BIPOC community members.
You can make a difference for women everywhere. 
Please give generously today! 
Gratefully,
Kelly Opper
Wendy's daughter and former Stewardship & Fulfillment Officer with the Royal Alexandra Hospital Foundation
P.S. Your support will mean a brighter future for millions of women across Alberta and beyond. Please give so we can ensure life-saving treatment and care is available for all of us in the future.
---
This letter was originally published here on the AWHF website.
If you would also like to share your story, please visit here. 
It is the AWHF's mission to foster equity in women's health, close gaps that exist in research today, and connect pathways from lab to life. Show your support for women like Kelly and Wendy from across Alberta and beyond with a gift to the AWHF.