Our Hospital, Our Stories

Give a Breath first virtual walk/run breathes life into lung cancer detection and research

Posted on: Aug 12, 2020

This year's virtual Give a Breath 5k walk/run brought together 136 registrants from around the globe all in the name of lung cancer research.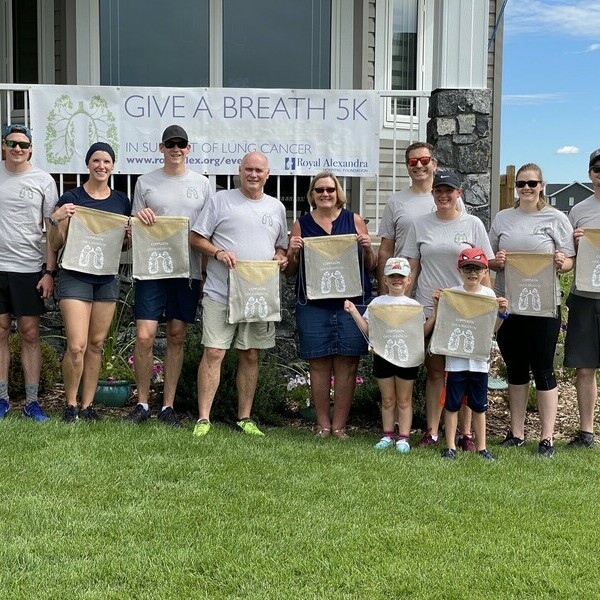 As the sun came up on the Give a Breath event day this past Saturday, there was no large crowd to be seen gathered, however, the support for lung cancer was racing in from across the globe.
This year's virtual Give a Breath 5k walk/run saw 136 registrants come together, one from as far away as Australia, all in the name of lung cancer research. Snapshots and sentiments came through from near and far—racers contributed from their own space, and at a safe social distance.
They say distance makes the heart grow fonder, but in this case distance made the funds grow fonder! The race brought in over $30,000 to be used to support lung cancer research and advancements in early detection methods for the devastating disease currently being explored at the Royal Alexandra Hospital.
"Thank you for supporting Give a Breath and the research and the amazing work being done towards lung cancer research, we appreciate everyone's participation and donations!" Tim Monds, Founder, Give a Breath 5k walk/run.
This year's walk/run may be over; however, cancer research and treatment centres continue to need our help. Please visit the event page to help us forge ahead in our mission to improve methods for early diagnosis and treatment of lung cancer currently being funded by the Royal Alexandra Hospital Foundation in partnership with the Alberta Cancer Foundation. 
Once again, thank you for giving hope to patients and families who are fighting lung cancer. Your support and your steps truly made a difference this year!
Virtual Give a Breath 5k walk/run